Dolly Drive to Now Offer Dolly Clone, Award-Winning Local Bootable Disaster Recovery for Mac Free at dollydrive.com
(July 15, 2011)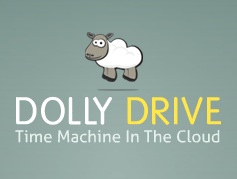 New York, NY (PRWEB) July 15, 2011
Dolly Drive, online backup for Time Machine, announced that it will now offer its Dolly Clone software for free by download. Dolly Clone lets users create an exact duplicate of their entire Mac computer on a local external hard drive. In the event their system crashes or theyre faced with some other computer disaster, users can reboot their computer as though the crash never happened. Dolly Clones easy incremental cloning function makes it easy to quickly update your clone as often as youd like.
We believe cloning is so critical in protecting your digital life that we just want to make sure Mac users do it, regardless of profit. said Mark Ross, Director of Client Services for Dolly Drive. While the clone doesnt offer the full benefits of Dolly Drives online storage like single file archiving and recovery or offsite backup, it at least guarantees youre safe from a system crash or disaster. If weve helped Mac users do that, we consider that a win.
Dolly Clone can be downloaded at http://www.dollydrive.com. Drive subscriptions can be purchased their as well in packages from 50GBs to 2 TBs for $5 to $55 per month which includes online storage, backup through Apples Time Machine, and software to create bootable clones on a local external hard drive.
About Cirrus Thinking
Cirrus Thinking was founded in 2009 by a pair of passionate Apple fans with the goal of delivering the critical advantages of cloud services to Apple users at the consumer, small businesses and enterprise levels. The first product Dolly Drive, an online backup solution for Apples Time Machine launched in 2011 and was named MacLife Magazines Best 2011 Mac Software and Best of Show at MacWorld 2011. Cirrus Thinkings entire range of Mac and PC products and services provide cutting edge solutions for auto-archiving, online backup, hard drive cloning, online storage, file syncing, and more. Cirrus Thinking has offices in New York and Miami, with SaaS and HaaS technology provided via Dolly Grid, Cirrus Thinking data centers located throughout the United States and Europe.
###
Read the full story at http://www.prweb.com/releases/2011/7/prweb8646917.htm.
Page: 1
Related Keywords:
computer crime,computing and information technology,satellite technology,wireless technology,science and technology,technology (general),identification technology,agricultural research and technology,computing and information technology,satellite technology,software,wireless technology,science and technology,technology (general),identification technology,agricultural research and technology,computing and information technology,networking,satellite technology,wireless technology,science and technology,technology (general),identification technology,agricultural research and technology,computer crime,software,computer crime,missile systems,
---