Dole Introduces Exclusive Online Community for Salad Lovers
DOLE(R) Salad Circle Will Feature Exclusive Recipes, Serving Suggestions and Insider Tips for Planning the Ultimate Salad Celebration; Goal Is for New Facebook App to Become the Public's Go-To Salad Source
(March 08, 2012)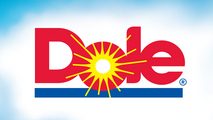 MONTEREY, CA -- (Marketwire) -- 03/08/12 -- Putting a modern twist on the Tupperware party, book club and sewing circle, Dole (www.dole.com/salads) is giving the nation's growing legion of salad lovers a members-only place to swap recipes, receive exclusive money-saving offers, plan the ultimate salad dinner party and chat with noted food, cooking and party-planning experts -- all at the click of a mouse button.
And the best part is that membership in this private club is free and open to anyone with a salad bowl, a pair of tongs and a passion for the green stuff.
DOLE® Salad Circle (http://goo.gl/C90Lk), part of the Salad'tude initiative created in 2012 by Dole Fresh Vegetables to widen the public's salad horizons, officially launches today as a separate, gated app on the DOLE Salads Facebook page (www.facebook.com/dolesaladguide), which is followed by more than 285,000 active, salad-loving fans.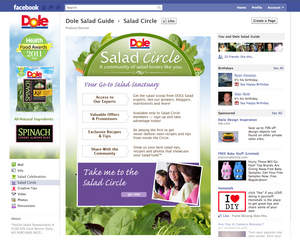 Starting this week, salad fans who register for DOLE Salad Circle membership receive immediate access to "insiders-only" salad-themed information, merchandise and offers not available to Dole's regular Facebook and Web followers or the general public. These special perks include:
The opportunity to download and share new recipes, photos and videos created by DOLE Salad customers and the salad and product experts at Dole.
Timely online chats with farmers, noted chefs, registered dieticians (RDs), members of the media and other experts.
A comment box for immediate and real-time conversation with other salad fans and experts.
The latest food, health and lifestyle trends and research findings.
An exclusive opportunity to sample new DOLE Salad blends, all-natural kits and other products before the general public.
Special free offers and money-saving coupons.
"DOLE Salad Circle is an extension of Dole's monthly salad e-newsletter, and was created at the request of DOLE Salads customers looking to take their love for salad even further," said Chris Mayhew, Dole Fresh Vegetables marketing director. "Our goal is for this destination to become the public's go-to source and interactive forum for anything and everything related to salad."
Salad Circle members also will be able to access a separate section dedicated to helping them plan and host the ultimate salad celebration -- which, consistent with the concept of Salad'tude, focuses on the wholesome indulgence and highly social nature of salad and salad-making. After throwing their own salad celebrations, members can post their party photos with other salad lovers and share recipes and tips for future gatherings.
Launched in February, DOLE® Salad'tude™ is an integrated marketing program that encourages the nation's millions of salad lovers to think of salad as an opportunity for personal extravagance and escape. There are endless possibilities in salad-making and Dole wants consumers to open their salad bowls -- and their minds -- to make the absolute perfect salad for themselves.
The multimedia campaign combines endorsements by Emmy-winning actress Felicity Huffman and other celebrities with digital advertising, in-store materials, consumer promotion, mobile and social media marketing and PR. The Show Your Salad'tude Sweepstakes, hosted by Huffman, entitles one lucky participant to win a trip for five to Monterey, Calif., for the ultimate salad-indulgence experience.
DOLE Salad Circle and Salad'tude are part of a larger mission by Dole to use increased fruit and vegetable consumption to improve America's overall nutritional health and work to reverse a number of negative health trends, among them poor diet and inadequate exercise as the primary causes of preventable death.
To join DOLE Salad Circle, go to www.facebook.com/DOLESaladGuide. Salad Circle membership is free and open to the public. To learn more about DOLE Salads, featuring 38 blends and all-natural kits, go to www.dole.com/salads.
About DOLE® Salads
DOLE Salads is one of the world's largest lines of packaged salads, with 28 unique salad blends and 10 all-natural salad kits. The line is supported by a comprehensive online library of salad and salad-related recipes, as well as various consumer-friendly tools like the on-pack DOLE® Salad Guide, Taste and Texture scales, and "Pairs well with" feature designed to inspire the country's millions of salad lovers to greater salad experimentation and in-kitchen creativity. For details, go to www.dole.com/salads or the DOLE Salads Facebook page at www.facebook.com/DOLESaladGuide.
About Dole Foods
Dole, with 2010 net revenues of $6.9 billion, is the world's largest producer and marketer of high-quality fresh fruit and fresh vegetables, and is the leading producer of organic bananas. Dole markets a growing line of packaged and frozen fruit and is a produce industry leader in nutrition education and research.
Image Available: http://www2.marketwire.com/mw/frame_mw?attachid=1911546

Media Contacts:
Bob Ochsner
(714) 881-2341
[email protected]

Amanda Sheaffer
(714) 881-2412
[email protected]


Copyright @ Marketwire
Page: 1
Related Keywords:
salad, dole, facebook, salad circle, Marketwire, ,Lifestyle,Internet Technology,Other,
---