Document Capture Technologies-DCMT Releases First Quarter 2012 Financial Results
Quarterly Sales, Gross Profit, EBITDA, Working Capital Rise Versus First Quarter 2011
(May 09, 2012)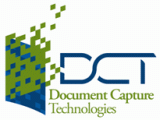 SANTA CLARA, CA -- (Marketwire) -- 05/09/12 -- Document Capture Technologies, Inc. (OTCBB: DCMT), an IP-driven leader in the design, development, manufacture and sale of advanced imaging technologies for over a decade, today announced Q1 2012 revenues of $4.4 million, up 23% over Q1 2011. The Company's $1.7M in gross profit during Q1 2012 was up 41% over Q1 2011. The increased gross profit was driven by the demand for the duplex, or two-sided, products and overall number of scanners sold.
Operating expenses rose to $1.9 million for the quarter versus $1.7 million for Q1 2011, as the Company continues its strategic investment spending in personnel and R&D to fuel growth and product expansion. Q1 2012 EBITDA* (earnings before interest, taxes, depreciation and amortization) was $77,000 versus ($175,000) for the same period in 2011, an improvement of $252,000.
DCT's financial position remains strong, with no debt, working capital in excess of $5.6 million in Q1 2012 versus $4.6 million in Q1 2011, and available borrowing capacity of $2.0 million. This is the Company's 10th consecutive same quarter year-over-year increase in revenues.
"Following record sales in 2011, DCT has once again posted gains year-over-year in revenue, gross profit, EBITDA and working capital," said David P. Clark, Chief Executive Officer of Document Capture. "The first quarter was a solid start to 2012 and has allowed us to continue our commitment to developing and expanding our product line and maintaining our industry-leading position in the market place. DCT has reached a point where we can substantially maintain our cost and fixed overhead, while continuing our growth, which we expect will in turn dramatically increase our bottom line in future quarters."
Document Capture's patented technology provides high quality images at extremely low power consumption levels in a compact package. Easy to use, DCT's products are adaptable to a wide variety of businesses. DCT's standard software supports drivers for Windows 7/Vista/XP, Windows CE, Linux and the MAC OS. DCT also offers a more customized product, with proprietary software development tools that help integrate its document capture products with new and existing applications.
Conference Call Details
Interested participants should register for the call 10 minutes prior to 4:30 pm Eastern on May 9, 2012. Dial 877-407-8035 when calling within the United States, or 201-689-8035 when calling internationally.
Following the call, there will be an open question and answer session with the participants.
Playback will be available until May 23, 2012. To listen to the playback, dial 877-660-6853 when calling within the United States, or 201-612-7415 when calling internationally. Use Account number 286 in conjunction with replay ID number 394062.
This conference call is also available via webcast and can be accessed by clicking here.
About Document Capture Technologies
Document Capture Technologies (OTCBB: DCMT) is a worldwide leader in the design, development, manufacturing, and sale of USB powered mobile page-fed document capture platforms. DCMT provides more than 30 different products across five distinct categories, which are distributed globally through private label solutions to leading Tier 1 OEMs, VARs and other system integrators, including NCR, Qualcomm, Digital Check, Burroughs and Brother.
For additional information, please see Document Capture Technologies' corporate website: www.docucap.com.
This press release is neither an offer to sell nor the solicitation of an offer to buy any securities of DCMT.
Forward-Looking Statements
Statements contained in this press release, which are not historical facts, are forward-looking statements as that term is defined in the Private Securities Litigation Reform Act of 1995. These forward-looking statements are based largely on current expectations and are subject to a number of known and unknown risks, uncertainties and other factors beyond the Company's control that could cause actual events and results to differ materially from these statements. These risks include, without limitation, that there can be no assurance that any strategic opportunities will be available to the Company and that any strategic opportunities may only be available on terms not acceptable to the Company. These statements are not guarantees of future performance, and readers are cautioned not to place undue reliance on these forward-looking statements, which speak only as of the date of this release. DCMT undertakes no obligation to update publicly any forward-looking statements.
*The Company is providing a non-generally accepted accounting principles financial measure, EBITDA (specifically defined by the Company as operating earnings before interest, taxes, depreciation included in operating expenses and amortization), because (i) the Company believes that this figure is helpful in allowing individuals to assess the ongoing financial performance of the business; (ii) the Company uses EBITDA, along with other GAAP measures, as a measure of profitability because EBITDA helps the Company compare its performance on a consistent basis by removing from its operating results the impact of non-cash expenses; and (iii) non-GAAP performance measures provide an additional analytical tool to clarify the Company's results from operations and helps the Company to identify underlying trends in its results of operations.
EBITDA is a non-GAAP measure and has limitations because it does not include all items of income and expense that impact the Company's operations. Management compensates for these limitations by also considering the Company's GAAP results. The non-GAAP financial measure the Company uses is not prepared in accordance with, and should not be considered an alternative to, measurements required by GAAP. Following is a reconciliation of operating loss to EBITDA (in thousands):
Three Months Ended March 31, -------------------- 2012 2011 --------- --------- Operating loss $ (200) $ (529) Adjustments: Depreciation expense included in operating 10 11 Expense Stock-based compensation cost - options 247 322 Fair value of warrants issued for services rendered 20 21 --------- --------- EBITDA $ 77 $ (175) ========= =========
Add to Digg Bookmark with del.icio.us Add to Newsvine
Contact:
Document Capture Technologies, Inc.
David P. Clark
CEO
408-213-3701
Email Contact


Copyright @ Marketwire
Page: 1
Related Keywords:
scanners, usb, portable scanners, scanning page fed scanning, Windows, Unix, Mac, windows ce, Linux, OS9, OSX, USA, Marketwire, Inc., , Financial, Computer Science, Other,
---