Document Capture Secures Mr. Karl Etzel as Product and Business Development Manager
Veteran of Intel and Cypress to Drive Key Product Development and Revenue Growth Initiatives
(February 16, 2011)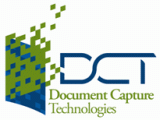 SANTA CLARA, CA -- (Marketwire) -- 02/16/11 -- Document Capture Technologies, Inc. (OTCBB: DCMT), an IP-driven leader in the design, development, manufacture and sale of advanced imaging technologies for over a decade, today announced the appointment of Karl Etzel as Product and Business Development Manager.
Mr. Etzel brings impressive expertise and experience to DCMT. Holding a Masters in Mechanical Engineering from the University of California at Irvine, he joins the Company after more than a decade as Program Manager for the US Navy, as well as Product Manager for the Data Communications Division of Cypress Semiconductor and Intel's Digital Health Group. His graduate education was fully funded by a National Science Foundation Graduate Research Fellowship.
"A major competitive advantage for DCMT is the continual strengthening of our industry-leading product engineering department," said David P. Clark, Chief Executive Officer of Document Capture. "Karl will be a key component in that area and also brings extensive sales, marketing and management acumen along with an impressive entrepreneurial background; another client and industry recognized DCMT characteristic. His role will be pivotal in the rapid execution of our new product development initiatives and broadening our already significant marketing partnerships."
Throughout his career, Mr. Etzel has demonstrated the unique ability to accelerate the development of new products, and manage those products from concept to rollout to the forging of significant sales partnerships. His past assignments have addressed several industry verticals of importance to DCMT, including leading the development, marketing and OEM support for an innovative hardware reference design for the healthcare sector.
Document Capture's patented technology provides high quality images at extremely low power consumption levels in a compact package. DCT also provides a comprehensive suite of proprietary software development tools that support and facilitate the accelerated integration of their document capture products with new and existing applications. These products are simple to use and interface with any computing device where there is need for a small footprint, lightweight scanner. DCT's standard software supports drivers for Windows7/Vista/XP, Windows CE, Linux and the MAC OS.
About Document Capture Technologies
Document Capture Technologies (OTCBB: DCMT) is a worldwide leader in the design, development, manufacturing, and sale of USB powered mobile page-fed document capture platforms. DCMT provides more than 30 different products across five distinct categories, which are distributed globally through private label solutions to leading Tier 1 OEMs, VARs and other system integrators, including NCR, Qualcomm, Burroughs and Brother.
For additional information, please see Document Capture Technologies' corporate website: www.docucap.com.
This press release is neither an offer to sell nor the solicitation of an offer to buy any securities of DCMT.
Forward-Looking Statements
Statements contained in this press release, which are not historical facts, are forward-looking statements as that term is defined in the Private Securities Litigation Reform Act of 1995. These forward-looking statements are based largely on current expectations and are subject to a number of known and unknown risks, uncertainties and other factors beyond the Company's control that could cause actual events and results to differ materially from these statements. These risks include, without limitation, that there can be no assurance that any strategic opportunities will be available to the Company and that any strategic opportunities may only be available on terms not acceptable to the Company. These statements are not guarantees of future performance, and readers are cautioned not to place undue reliance on these forward-looking statements, which speak only as of the date of this release. DCMT undertakes no obligation to update publicly any forward-looking statements.
Add to Digg Bookmark with del.icio.us Add to Newsvine
Company Contact:
Document Capture Technologies, Inc.
David P. Clark
CEO
408-213-3701
Email Contact


Copyright @ Marketwire
Page: 1
Related Keywords:
scanners, usb, portable scanners, scanning page fed scanning, Windows, Unix, Mac, windows ce, Linux, OS9, OSX, Marketwire, Inc., healthcare, Computer Science, Engineering, Business, Science, Military, Other,
---