Document Capture Names Craig H. Weber President and Chief Operating Officer
Entrepreneurial Industry Veteran Brings Extensive Management, Corporate Finance and Legal Expertise
(November 11, 2010)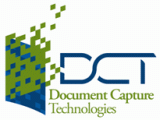 SAN JOSE, CA -- (Marketwire) -- 11/11/10 -- Document Capture Technologies, Inc. (OTCBB: DCMT), an IP-driven leader in the design, development, manufacture and sale of advanced imaging technologies, today announced the appointment of Craig H. Weber as President and Chief Operating Officer (COO).
"I have known Craig for more than a decade, since he was COO of another company that I was involved with," said David P. Clark, Chief Executive Officer of Document Capture. "Craig attracts great people who are passionate about their work, empowers them and provides clear strategic vision and strong leadership. His ability to enable and build high performing teams is a great fit with DCMT's tremendous growth potential."
Mr. Weber brings over 25 years of high level business leadership and corporate legal experience to DCT. Most recently as CFO and EVP Corporate Development for Home Care Delivered, Inc (HCD), a leading provider of disposable medical supplies delivered directly to the patient's home, Mr. Weber was the driving force behind the Company's strategic growth, leadership and financial initiatives.
Previous leadership roles include President & CEO of a business-focused technology consulting company employing over 100 professionals, senior management roles in private equity backed firms and national real estate brokerage -- Homebytes.com Inc. Mr. Weber began his career in 1984 as a corporate attorney with two nationally recognized law firms; leaving the legal profession as Partner in 1996 to begin his business ventures.
Mr. Weber earned his MBA at William and Mary in 1997 (1st in class), his law degree in 1984 from the University of Virginia where he was a member of the Virginia Law Review and a bachelors degree from Cornell University in 1981. He maintains his active attorney status in Virginia.
"I very much look forward to joining the Document Capture team," said Mr. Weber. "The opportunity for growth is unparalleled, as evidenced by DCMT's impressive revenue growth to date and virtually limitless potential in the explosive areas of Remote Document Capture and image capture technologies and solutions. The Company's extremely robust R&D, proprietary products and global client reach will ensure it continues to hold and increase its leadership position in the sector."
Current President and COO William Hawkins will be offered the new position of President, Global Operations to focus on the Company's rapidly growing business in Europe and Asia.
Document Capture's patented technology provides high quality images at extremely low power consumption levels in a compact package. DCMT also provides a comprehensive suite of proprietary software development tools that support and facilitate the accelerated integration of their document capture products with new and existing applications. These products are simple to use and interface with any computing device where there is need for a small footprint, lightweight scanner. DCMT's standard software supports drivers for Windows7/Vista/XP, Windows CE, Linux and MAC OS's.
About Document Capture Technologies
Document Capture Technologies (OTCBB: DCMT) is a worldwide leader in the design, development, manufacturing, and sale of USB powered mobile page-fed document capture platforms. DCMT provides more than 30 different products across five distinct categories, which are distributed globally through private label solutions to leading Tier 1 OEMs, VARs and other system integrators, including NCR, Qualcomm, Burroughs and Brother.
For additional information, please see Document Capture Technologies' corporate website: www.docucap.com.
This press release is neither an offer to sell nor the solicitation of an offer to buy any securities of DCMT.
Forward-Looking Statements
Statements contained in this press release, which are not historical facts, are forward-looking statements as that term is defined in the Private Securities Litigation Reform Act of 1995. These forward-looking statements are based largely on current expectations and are subject to a number of known and unknown risks, uncertainties and other factors beyond the Company's control that could cause actual events and results to differ materially from these statements. These risks include, without limitation, that there can be no assurance that any strategic opportunities will be available to the Company and that any strategic opportunities may only be available on terms not acceptable to the Company. These statements are not guarantees of future performance, and readers are cautioned not to place undue reliance on these forward-looking statements, which speak only as of the date of this release. DCMT undertakes no obligation to update publicly any forward-looking statements.
Add to Digg Bookmark with del.icio.us Add to Newsvine
Company Contact:
Document Capture Technologies, Inc.
David P. Clark
CEO
408-213-3701
Email Contact


Copyright @ Marketwire
Page: 1
Related Keywords:
scanners, usb, portable scanners, scanning page fed scanning, Windows, Unix, Mac, windows ce, Linux, OS9, OSX, Marketwire, Inc., Financial, Computer Science, Business, Other,
---