DispenseLabs Unveils Autospense, an Advanced Automated System for the Disbursement of Medical Marijuana
New Technology Brings Necessary Solutions to the Industry, Storeowners and Patients
(April 20, 2012)
ALISO VIEJO, CA -- (Marketwire) -- 04/20/12 -- DispenseLabs LLC, a division of The Dispensary Group, announced today the unveiling of "Autospense," a technologically advanced, smart system created exclusively for the disbursement of medical marijuana.
"Autospense, a stand-alone machine embedded with a customized software solution, aims to become the model for government compliance and will bridge the gap between storeowners and governmental agencies with its accurate tracking and management of medical marijuana," said Joe DeRobbio, founder and CEO, DispenseLabs. "In addition to improving financial accountability and security for storeowners and patients alike, Autospense addresses issues at the state and federal level with 24/7 tracking and electronic reporting capabilities."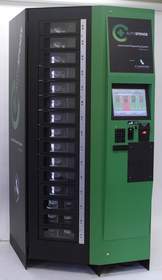 AUTOSPENSE... A FORWARD-THINKING SOLUTION TO LONG-TIME CONCERNS
Autospense will advance storeowners' ability to properly manage and securely disburse medical marijuana. The machine enables the storeowner to mitigate a host of problems and community concerns thanks to its specifically designed automated features. It records monetary transactions and manages inventory tracking within a heavily secured framework of cameras, locks and sensors.
"For storeowners, Autospense is an unsurpassed system, which offers a new, forward-thinking model of security, transparency, store efficiency, financial accountability and supply chain management," said DeRobbio. "For patients and the community, it provides a safe, legally compliant, legitimate, professional and accessible means to obtain medical marijuana."
Key features of Autospense include the management and security of patient information, which complies with the HIPAA (Health Insurance Portability and Accountability Act) privacy rule. During after hours, only registered patients who have agreed to the fingerprint option will gain access to Autospense by using a fingerprint scanner and swiping a registration card. All monetary transactions are visually monitored and recorded 24 hours a day, seven days a week.
Autospense automatically rotates pre-packaged inventory to maintain quality control and freshness. Rigorous testing of the inventory is conducted by SC Laboratories, a highly advanced and respected medical marijuana-testing lab in Santa Cruz, California.
The machine offers storeowners a list of solutions connected to problems long associated with medical marijuana businesses. Its groundbreaking technology gives patients a secure and standardized access to medical marijuana. Monetary transactions are also fully secured within Autospense, another feature in this heavily secured system designed to reduce mishandling and theft within the store. For more information about Autospense, please call 800-316-6071 or visit www.autospense.com.
About The Dispensary Group
Committed to raising the level of legitimacy and accountability in the medical marijuana industry, The Dispensary Group is the parent company to DispenseLabs LLC. Comprised of forward-thinking business leaders, healthcare advocates and technical experts, DispenseLabs is the innovator of Autospense, a fully automated dispensing system that mitigates problems and concerns associated with medical marijuana. Founded in 2009, the company provides innovative solutions and sound business practices in support of social, political, business, law enforcement and community interests. For more information, please call 800-316-6071 or visit www.autospense.com.
Editor's Note: High resolution photos are available. Please email [email protected] to request photos.
Image Available: http://www2.marketwire.com/mw/frame_mw?attachid=1956223
Embedded Video Available: http://www2.marketwire.com/mw/frame_mw?attachid=1956224

Add to Digg Bookmark with del.icio.us Add to Newsvine
Copyright @ Marketwire
Page: 1
Related Keywords:
medical marijuana, government compliance, Marketwire, , Financial, Business, Email,
---