Discover Whale Appreciation and Environmental Awareness With Blimps and Whales Children's Book Discounted for Earth Day
(April 21, 2011)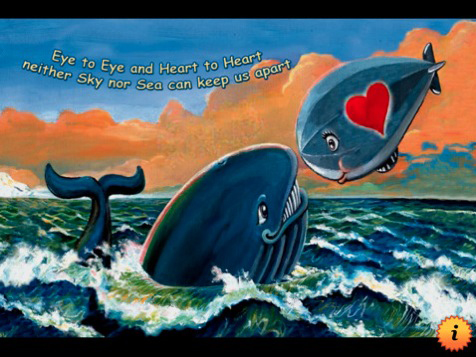 San Rafael, CA (PRWEB) April 21, 2011
In honor of Earth Day, Blimps and Whales a beautiful storybook and interactive app, is being offered at a discount. The printed versions discounted price is only $11.25 (regularly $14.95) and is available directly from the Seasons Studios website. Interactive, animated apps are available for only $2.99 for iPad and only $.99 for iPhone®/iPod touch® (regularly $3.99 and $1.99, respectively) on the App Store. For additional information and to view preview videos, visit the RipplFX website. The discounts apply through Sunday, May 1, 2011.
Produced by Argisle Enterprises, Inc., and distributed by Seasons Studios, this simple story encourages and focuses on the friendship of a blimp named Scout and a whale named Spout. It tells the tale of how they watch over one another and share in playful times. Focusing on whale appreciation and environmental awareness, it is a journey of friendship between sky and sea that teaches children about mutual respect between human beings and the environment. The book includes an original poem entitled Blubberspout that is translated into seven languages, as well as official proclamations from the city of San Francisco declaring World Whale Day in honor of all whales. For ages 3 and up.
RipplFX, Inc. adapted Blimps & Whales from the traditional storybook published by Argisle Enterprises, Inc. Enhanced features include animation, individual words that highlight when read aloud, professional narration, background audio effects, and special, interactive pages. In addition, audio can be recorded by a familiar voice to provide extra comfort for the child.
Nourish childrens minds with stories like this and the environment will flourish, said Bethany Argisle, author of Blimps and Whales, CEO of Arigisle Enterprises and Co-Founder of Seasons Studios. Each and every species is a twinkle reflected as light on water, each spout from a whale, each sprout from a seed, each wave is an opportunity for rhythm renewal. Join in and vote for Earth with your heartbeat!
Promoting stories that encourage awareness about safeguarding the environment will help protect the future for the coming generations of all beings on our planet, said Nicole Lundeen, CEO of RipplFX, Inc.
About RipplFX, Inc.
RipplFX, Inc. is a mobile media company that produces interactive storybooks on multiple platforms for iPad, iPhone, Android, and webOS. RipplFX professional team of producers, illustrators, and animators craft their products to enhance interactivity in storytelling to create an engaging learning experience. Using a proprietary development system, RipplFX builds quality and affordable apps for authors and publishers. To learn more about RipplFX full suite of services visit the RipplFX website.
About Argisle Enterprises, Inc.
Argisle Enterprises, Inc. is recognized for its role in making contributions to health education, environmental awareness and professional product design. AEI Publishing was established to create products for education in the fields of health to include anatomy, medicine, and illustrated books for children, as well as training a small staff to uphold and encourage this market. AEI is focused on the production of CEO Bethany Argisles content for children, families and especially the environment. Learn more at the Argisle Enterprises website.
About Seasons Studios
Seasons Studios is dedicated to educational entertainment for children and families about health, nutrition and the environment. Through its unique line of interactive books, music, apps and clothing, it is their hope that children, the worlds most important investment the children will grow up to value their own health and that of the world around them. Find out more at the Seasons Studios website.
Media Contacts
Seasons Studios
Sandra Evans
sandra (at) andassociates-ca.com
415.887.9230
Frank Colin
RipplFX, Inc.
fcolin (at) ripplfx.com
310.515.3625
###
Read the full story at http://www.prweb.com/releases/2011/4/prweb8319110.htm.
Page: 1
Related Keywords:
plastic art,entertainment award,entertainment (general),arts (general),arts, culture and entertainment,economy, business and finance,financial and business service,business enterprises,business (general),fishing industry,cinema industry,radio industry,television industry,music industry,process industry,society,social issues (general),global expansion,global warming,global change,justice and rights,civil rights,animal diseases,animal,human rights,animal science,natural disasters,natural resources (general),
---