DigitalTown to Present at the Inaugural Marcum MicroCap Conference on June 20th in NYC
(June 11, 2012)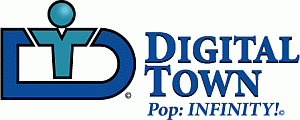 MINNEAPOLIS, MN -- (Marketwire) -- 06/11/12 -- DigitalTown, Inc. (OTCQB: DGTW) (PINKSHEETS: DGTW) today announced that Robert Castle, will present at the Marcum MicroCap Conference on June 20th in New York City at the Roosevelt Hotel. The event is held by Marcum LLP, one of the top ten auditors of U.S. public companies, and co-presented by CCG Investor Relations, a global investor relations consulting firm.
Presentation Details
Date: Wednesday, June 20, 2012
Time: 9:30 AM Eastern Time
Location: The Roosevelt Hotel, 45 East 45th Street, New York, NY
Furthermore, The Marcum MicroCap conference is designed for investors interested in the micro-cap arena, and is expected to gather over 500 participants, including institutional investors, mutual funds, hedge funds, wealth managers, and family offices. The conference will also feature panels on subjects highly relevant to small-cap corporate finance. The event is free to attend for qualified investors and the company will make a formal presentation and be available for one-on-ones.
For full event details and registration information, visit www.marcumllp.com/MicroCap
About DigitalTown:
DigitalTown, Inc., in Burnsville, MN, owns and operates a nationwide network of more than 20,000+ local online communities for high school students, alumni, boosters and local citizens. To find your high school spirit website and for more information, please visit www.digitaltown.com.
About Marcum LLP
Marcum LLP is one of the largest independent public accounting and advisory services firms in the nation. Ranked among the top firms in the nation, Marcum offers the resources of more than 1,100 professionals, including more than 150 partners, in 23 offices throughout New York, New Jersey, Massachusetts, Connecticut, Pennsylvania, California, Florida, Grand Cayman, China and Hong Kong. The Firm's presence runs deep with full service offices strategically located in major business markets. Marcum is a member of the Marcum Group, the gateway to a group of organizations that provide a variety of professional services including accounting and advisory, technology solutions, recruiting, and wealth management.
About CCG Investor Relations
CCG is a leading global investor relations and strategic communications consulting firm. In business for more than 30 years, the agency provides a complete range of investor communications, counseling, and IT and data solutions through our global network to over 100 clients across multiple capital markets. CCG has been awarded a number of industry honors for its handling of complex investor relations and crisis communications matters. The agency's corporate headquarters is in Los Angeles with additional offices in New York, Beijing, Shanghai, Hong Kong, London and Tel Aviv. For further information, contact CCG directly, or visit the Company's web sites at www.ccgir.com/ and www.ccgirasia.com.
Safe Harbor Language:
Any statements contained herein related to future events are forward-looking statements and are made pursuant to the safe harbor provisions of the Private Securities Litigation Reform Act of 1995. Readers are cautioned not to place undue reliance on forward-looking statements, DigitalTown, Inc. undertakes no obligation to update any such statements to reflect actual events. For more information, please visit www.digitaltown.com or www.digitaltowncorp.com.
Company Contact:
DigitalTown
[email protected]
(952) 890-2362 (office)


Copyright @ Marketwire
Page: 1
Related Keywords:
DigitalTown, Inc., USA,China,Hong Kong,Marketwire, Inc.,Internet Technology,Business,china,Family,
---