DigitalTown Reports 31.0 Million Hits in the Month of March 2012 for Its Hyper-Local High School Social Network
(April 10, 2012)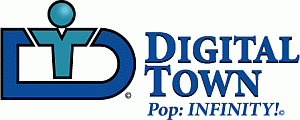 MINNEAPOLIS, MN -- (Marketwire) -- 04/10/12 -- DigitalTown, Inc. (OTCQB: DGTW) (PINKSHEETS: DGTW) announced today that for the month ending March 31, 2012, DigitalTown's social network received approximately 31.0 million hits and in excess of 20.0 million pageviews, with unique visitors returning multiple times to view high school scores, schedules and rankings. The increase in pageviews is in excess of 1900% from the 1.0 million pageviews as reported in November 2010, the first month in which the Company launched its hyper-local high school social network.
DigitalTown is re-establishing the high school connection experience initially through the publishing of schedules, scores and rankings for approximately 41,000 high school football, basketball and lacrosse teams across the United States. DigitalTown will be looking to add additional hyper-local content, including adding additional sports, during the remainder of 2012 and in to 2013.
Robert Castle, CEO, commented, "We are achieving this significant increase in volume due to organic growth, word of mouth and viral marketing of the DigitalTown hyper-local, high school social network. We look forward to communicating our unique platform as we continue to re-define the high school connection experience."
DigitalTown will be scheduling its first ever investor conference call by the end of its First Fiscal Quarter to give a general overview of DigitalTown and to outline the Company's strategy for the remainder of 2012.
Through www.digitaltown.com, individuals are able to directly find local scores nationwide without having to go through a search engine or local newspaper. With over 20,000+ high school spirit websites dynamically linked together, fans can quickly find not only their school schedules, scores and rankings, but also those of their competitors. Bookmark your favorite team through the www.digitaltown.com network.
About DigitalTown:
DigitalTown, Inc., in Burnsville, MN, owns and operates a nationwide network of more than 20,000+ local online communities for high school students, alumni, boosters and local citizens. For more information, please visit www.digitaltown.com.
Safe Harbor Language:
Any statements contained herein related to future events are forward-looking statements and are made pursuant to the safe harbor provisions of the Private Securities Litigation Reform Act of 1995. Readers are cautioned not to place undue reliance on forward-looking statements, DigitalTown, Inc. undertakes no obligation to update any such statements to reflect actual events. For more information, please visit www.digitaltown.com
Company Contact:
DigitalTown
[email protected]
(952)890-2362 (office)


Copyright @ Marketwire
Page: 1
Related Keywords:
DigitalTown, Inc., USA,Marketwire, Inc., ,Sports,Sports,Basketball,
---