DigitalTown Launches $50,000 School Spirit Scholarship and Social Superstar Internship Program
(May 22, 2012)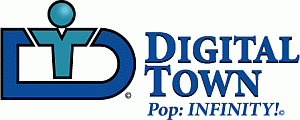 MINNEAPOLIS, MN -- (Marketwire) -- 05/22/12 -- DigitalTown, Inc. (OTCQB: DGTW) (PINKSHEETS: DGTW) announced today that it has launched a School Spirit Scholarship and Social Superstar Internship program that will award students $50,000 during the summer of 2012.
DigitalTown's program seeks to redefine the high school connection experience by building a school spirit community of students representing approximately 27,000 high schools across the United States. The first phase of the program -- which closes on Memorial Day -- will award $15,000 in scholarships to the three students who are most active in building their school spirit community.
In the second phase, one student from each high school will be identified as their school's social media star. Each star student will be invited to the school spirit, Social Superstar Internship Program, which will run from June through August of 2012. The internship offers students the opportunity to build their social media skills, gain valuable work experience and qualify for the chance to win one of three additional scholarships totaling $35,000. Students can apply to the program at http://www.facebook.com/DigitalTown.
Robert Castle, CEO, commented, "We are excited to support the education of local high school students and build a positive online community. Students will have the opportunity to participate in a great internship, showcase their school and potentially win a $35,000 scholarship that could make a major difference in their future."
Through www.digitaltown.com, individuals are able to directly find local scores nationwide without having to go through a search engine or local newspaper. With over 20,000+ high school spirit websites dynamically linked together, fans can quickly find not only their school schedules, scores and rankings, but also those of their competitors. Bookmark your favorite team through the www.digitaltown.com network.
About DigitalTown:
DigitalTown, Inc., in Burnsville, MN, owns and operates a nationwide network of more than 20,000+ local online communities for high school students, alumni, boosters and local citizens. For more information, please visit www.digitaltown.com. Don't forget to "Like" DigitalTown on Facebook.
Safe Harbor Language:
Any statements contained herein related to future events are forward-looking statements and are made pursuant to the safe harbor provisions of the Private Securities Litigation Reform Act of 1995. Readers are cautioned not to place undue reliance on forward-looking statements, DigitalTown, Inc. undertakes no obligation to update any such statements to reflect actual events. For more information, please visit www.digitaltown.com
Company Contact:
DigitalTown
investor@digitaltown.com
(952) 890-2362 (office)


Copyright @ Marketwire
Page: 1
Related Keywords:
DigitalTown, Inc., USA, Marketwire, Inc., ,
---