DigitalTown Announces New CEO and President
Senior Executive Robert Castle Named
(March 19, 2012)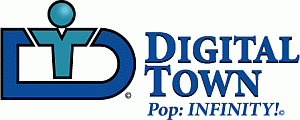 MINNEAPOLIS, MN -- (Marketwire) -- 03/19/12 -- DigitalTown, Inc. (OTCQB: DGTW) (PINKSHEETS: DGTW) today announced that Robert Castle, has joined the Company as Chief Executive Officer and President. He will also serve as a member of the Board of Directors of the Company.
Richard Pomije, Chairman, commented, "I am proud to announce a new addition to the DigitalTown team. Effective immediately, Robert Castle will become our Chief Executive Officer and President. Rob will initially concentrate on investor relations, improving customer perception and media awareness of the Company and he will also be in charge of corporate governance. I expect Rob will spend a lot of time explaining what the Company does and how we are executing on our growth initiatives. We need a person focused on constantly talking to investors and the media as the Company continues to expand. I will continue to devote more time to developing our nationwide network of more than 20,000 local online communities for high school students, alumni, boosters and local citizens and make sure the customer experience lives up to or exceeds expectations of such an innovative company."
Most recently, Castle, 40, was a senior investment banker and Managing Director of Northland Capital Markets. Prior to that, Castle served in a variety of senior investment banking roles in the investment banking groups at RBC Capital Markets and Piper Jaffray. Castle has extensive mergers and acquisition and financing experience having completed in excess of $35.0 billion in transaction value over his investment banking career. As such, during the remainder of 2012, the Company will seek to potentially acquire complementary businesses as well as raise additional growth capital to support the Company's short- and long-term growth objectives.
DigitalTown Chief Executive Officer and President Robert Castle stated: "It's been a longtime goal to be involved in operating and running a public company. Having worked closely with the Company over the past several years, joining such an original and unique company in many facets of business is a great opportunity. One of my objectives is to explain how our uniqueness is a great benefit to our investors and other stakeholders. Reducing the workload of being a public company for Dick and the rest of the team so they can continue to create our unique social-networking platform will generate great value for shareholders. I am excited to be starting with DigitalTown at the beginning of a major growth phase for the Company."
About DigitalTown:
DigitalTown, Inc. in Burnsville, MN is developing a nationwide network of more than 20,000 local online communities for high school students, alumni, boosters and local citizens. For more information, please visit www.digitaltown.com.
Safe Harbor Language:
Any statements contained herein related to future events are forward-looking statements and are made pursuant to the safe harbor provisions of the Private Securities Litigation Reform Act 1995. Readers are cautioned not to place undue reliance on forward-looking statements. DigitalTown, Inc. undertakes no obligation to update any such statements to reflect actual events.
Company Contact:
DigitalTown
[email protected]
(952)890-2362 (office)


Copyright @ Marketwire
Page: 1
Related Keywords:
DigitalTown, Inc., Marketwire, Inc., ,Business,Other,
---