DigitalTown Announces Investor Update Conference Call
(May 29, 2012)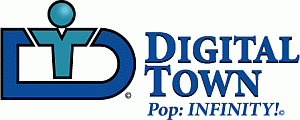 MINNEAPOLIS, MN -- (Marketwire) -- 05/29/12 -- DigitalTown, Inc. (OTCQB: DGTW) (PINKSHEETS: DGTW) announced today that it will host an investor update conference call on Wednesday, May 30, 2012 at 5:00 PM Eastern in which we will give an overview of DigitalTown's recently launched hyper-local, high school social network across its 20,000+ high school spirit websites.
To participate, please call 1-888-715-1391 and ask for the DigitalTown call using pass code 1019544. A replay of the conference call can be accessed until 11:50 PM ET on June 15, 2012 by calling 1-888-203-1112 and entering pass code 1019544.
Through www.digitaltown.com, individuals are able to directly find local scores nationwide without having to go through a search engine or local newspaper. With over 20,000+ high school spirit websites dynamically linked together, fans can quickly find not only their school schedules, scores and rankings, but also those of their competitors. Bookmark your favorite team through the www.digitaltown.com network.
About DigitalTown:
DigitalTown, Inc., in Burnsville, MN, owns and operates a nationwide network of more than 20,000+ local online communities for high school students, alumni, boosters and local citizens. For more information, please visit www.digitaltown.com. Don't forget to "Like" DigitalTown on Facebook.
Safe Harbor Language:
Any statements contained herein related to future events are forward-looking statements and are made pursuant to the safe harbor provisions of the Private Securities Litigation Reform Act of 1995. Readers are cautioned not to place undue reliance on forward-looking statements, DigitalTown, Inc. undertakes no obligation to update any such statements to reflect actual events. For more information, please visit www.digitaltown.com
Company Contact:
DigitalTown
[email protected]
(952) 890-2362 (office)


Copyright @ Marketwire
Page: 1
Related Keywords:
high school, school spirit, scholarship, sports scores, schedules, rankings, Marketwire, Inc., , Sports, Sports,
---