Digital Reasoning and TeraDact Partner to Automatically Remove Sensitive Information From Big Data
Synthesys Cloud-Based Automated Understanding Empowers Market Solutions
(January 04, 2012)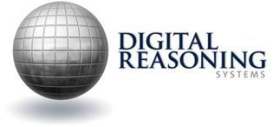 ARLINGTON, VA and NASHVILLE, TN -- (Marketwire) -- 01/04/12 -- Digital Reasoning™, the leader in unstructured data analytics at scale, today announced that TeraDact Solutions has integrated their TeraDactor™ Information Identification and Presentation (IIaP™) capabilities including the TeraDactor automated redaction engine, with Synthesys® Cloud, a software-as-a-service data analytics solution. Digital Reasoning launched Synthesys Cloud as a public platform for partners to access the leading entity-oriented analytics solution with the simplicity of a Web service.
In conjunction with Synthesys, TeraDactor can automatically assist in appropriately classifying information not recognized by the original data provider. TeraDactor allows participants to push and pull information without waiting for the declassification process, assuring that formerly classified documents may be released without unintended leakages.
"As governments and enterprises comb their data for security threats and competitive issues, secure document sharing is a must, but in order for that disclosure to occur, sensitive data must be controlled," said Chris Schrichte, President and CEO of TeraDact Solutions. "By leveraging Synthesys Cloud, we are able to automatically categorize the data, allowing for the most effective and secure sharing of mission critical information in the most timely manner."
"We are pleased to be partnering with TeraDact as they bring this innovative product to market that ensures sensitive information can be shared safely," said Tim Estes, Chief Executive Officer, at Digital Reasoning. "This partnership demonstrates the power of Synthesys as a cloud-based data analytics tool in building the next generation of Big Data analytic solutions."
About Synthesys Cloud
The Synthesys Cloud is an open and scalable web service for data analytics enabling users and developers to easily create innovative solutions that depend on entity-oriented analytics as a component of a complete solution. Built to address the most complicated data analytics challenges, Synthesys excels at extracting, resolving and linking entities and concepts to provide context to the newly discovered information. Synthesys Cloud was launched in early 2011 and has over 30 companies and varying stages of development and testing to bring innovative solutions to market.
About TeraDactor
TeraDactor is an embeddable Web-based proprietary solution that gives organizations effective control of complex document formats and the data contained within them. TeraDactor exposes all visible and hidden content to reviewers, automatic rule sets, and third party software to enable a collaborative review process in which reviewers and potential recipients of reports receive only the appropriate document contents and paragraphs. The TeraDactor integration toolset allows information managers to leverage TeraDactor for a wide range of missions from real-time compliance checking to fine-grained information control and release of sensitive information to appropriate persons. TeraDactor's Universal Viewer embeds into any application and leaves all classifiers and their release conditions under application control while extending this control to every review mark.
About TeraDact Solutions, Inc.
TeraDact Solutions' (www.teradact.com) toolset challenges current sensitive document and information management and sharing policies. Its technology allows information managers to check, version, and release the right information to the right audience at the right time. TeraDact is headquartered in Missoula, MT with offices in Washington, DC and Edmonton, Alberta. For more information, please visit www.teradact.com.
About Digital Reasoning
Digital Reasoning (www.digitalreasoning.com) provides automated understanding for Big Data. Automated understanding analyzes unstructured and structured data to reveal the hidden and potentially valuable relationships between people, place and time. More than a dozen government agencies use Digital Reasoning's flagship product, Synthesys, to uncover security threats and accelerate the time to actionable intelligence. The company is headquartered in Franklin, Tennessee, with a satellite office in Washington, DC which serves its growing government client base. For more information, please visit www.digitalreasoning.com.
Add to Digg Bookmark with del.icio.us Add to Newsvine
Contact:
Lisa Allocca
Red Javelin Communications
+1-978-470-2227
Email Contact


Copyright @ Marketwire
Page: 1
Related Keywords:
Big Data, text analytics, unstructured data, Marketwire, ,Internet Technology,
---