Digidesign Releases Pro Tools for Leopard
(June 19, 2008)
DALY CITY, CA -- (MARKET WIRE) -- 06/19/08 -- Digidesign, a part of Avid Technology, Inc. (NASDAQ: AVID), announced today the immediate availability of Pro Tools® 7.4.2 software, which provides Mac OS X 10.5.3 (Leopard) compatibility for Pro Tools|HD®, Pro Tools LE®, and Pro Tools M-Powered™ users. Product update details can be found below.
"Since the release of Mac OS X Leopard, we have been working closely with Apple to ensure that a Leopard-compatible version of Pro Tools delivers the same level of performance and reliability that our customers have come to depend on," commented Dave Lebolt, Avid vice president and general manager of Digidesign. "With the release of Mac OS X 10.5.3 just a few weeks ago, we were able to enter the final stages of performance testing and quality assurance before making qualified versions of Pro Tools available to our customers. We're pleased to finally be able to offer all of our customers -- HD, LE, and M-Powered alike -- a fully qualified version of Pro Tools software that will allow them to take advantage of Apple's latest operating system."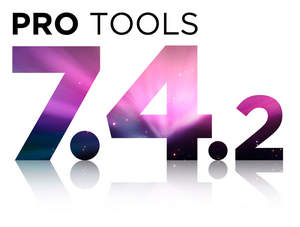 Lebolt continues, "Digidesign is fortunate to have one of the largest and most dedicated user communities in professional audio. From hobbyists to high-end pros, Pro Tools users rely on our products every day to attain a level of performance and stability that allows them to create award-winning work -- it's often the primary toolset that they depend on to earn their living. That's why we're extremely committed to ensuring that any Pro Tools release is fully-tested and ultimately reliable before it's introduced to our users."
Availability
All registered Pro Tools 7.4 users may download the free Pro Tools 7.4.2 software update from the Digidesign website. Purchasers of new Pro Tools systems or software will receive the free update to Pro Tools 7.4.2 upon registration.
Current Pro Tools users who have not yet upgraded to Pro Tools 7.4 software* can purchase a 7.4.2 upgrade from the DigiStore (HD, LE, and M-Powered) or an authorized Digidesign dealer (HD only).
Plug-in Compatibility
Some currently shipping plug-ins and virtual instruments are not yet compatible with Pro Tools 7.4.2 software running on Mac OS X 10.5.3, and some require that users update their plug-ins if an update is available. Before installing the Pro Tools HD 7.4.2 update, users should review the Pro Tools Plug-in Compatibility with Leopard page, which is updated regularly with the latest information.
*Customers who recently purchased but have not yet registered a Pro Tools system packaged with Pro Tools 7.4 or 7.3 software are eligible to receive a free update/upgrade to Pro Tools 7.4.2 upon registration.
About Digidesign
Digidesign is a worldwide leading manufacturer of digital audio production systems and the winner of the 2001 Technical Grammy® Award and 2003 Oscar® statuette representing the Academy Scientific and Technical Award for the design, development, and implementation of the Pro Tools® digital audio workstation. Digidesign provides the professional music, film, video, multimedia, and radio broadcast industries with tools for digital recording, MIDI sequencing, editing, signal processing, and surround mixing. Digidesign products are marketed in more than 40 countries worldwide through a distribution network of value-added dealers, distributors, and OEM relationships. Digidesign is a part of Avid Technology, Inc. For more information, visit www.digidesign.com.
About Avid Technology, Inc.
Avid is a worldwide leader in tools for film, video, audio, 3D animation, gaming and broadcast professionals -- as well as for home audio and video enthusiasts. Avid professional and consumer brands include Avid, Digidesign, M-Audio, Pinnacle Systems, Sibelius, Softimage and Sundance Digital. The vast majority of primetime television shows, feature films, commercials and chart-topping music hits are made using one or more Avid products. Whether used by seasoned professionals or beginning students, Avid's products and services enable customers to work more efficiently, productively and creatively. Avid received an Oscar statuette representing the 1998 Scientific and Technical Award for the concept, design, and engineering of the Avid® Film Composer® system for motion picture editing. For more information about the company's Oscar, Grammy® and Emmy® award-winning products and services, visit www.avid.com.
© 2008 Avid Technology, Inc. All rights reserved. Product features, specifications, system requirements, and availability are subject to change without notice. Promotions and discounts are subject to availability and change without notice. All prices are USMRP for U.S. and Canada only and are subject to change without notice. Avid, Digidesign, Film Composer, M- Audio, Pinnacle Systems, Sibelius, Softimage, Sundance Digital, Pro Tools, Pro Tools|HD, Pro Tools LE, and Pro Tools M-Powered are trademarks or registered trademarks of Avid Technology, Inc. or its affiliates in the United States and/or other countries. Oscar is a trademark and service mark of the Academy of Motion Picture Arts and Sciences. Grammy is a trademark of the National Academy of Recording Arts and Sciences, Inc. All other trademarks contained herein are the property of their respective owners.
Image Available: http://www2.marketwire.com/mw/frame_mw?attachid=783652

Add to Digg Bookmark with del.icio.us Add to Newsvine
Contacts:
Kyle Ritland
Digidesign
650.731.6688
[email protected]

Lisa Pistacchio
Avid Corporate
650.930.3083
[email protected]


Copyright @ Marketwire
Page: 1
Related Keywords:
Digidesign, Pro Tools, Leopard, Mac OS X 10.5.3, Pro Tools|HD, Pro Tools LE, Pro Tools M-Powered, Animators, Broadcast, Audio Professionals, Digital, Recording, Editing, Mixing, Pro Audio, Camera/Film, Prosumer/Consumer, Gaming, Anim, Sound & Music, Broadcast Technology, Production/Post, Animation, Audio Production, Broadcast, HDTV, Software, Production, Commercials, Workstation/CPU, OS (Operating System), Mac, OS9, OSX, Canada, USA, Marketwire, Avid (protools, softimage, pinnacle, etc), Shipping, Film, Television, Music, Communications Technology, Outdoor Sports, Other,
---