DiSTI Offers Free iDevice Development Bundle
(March 22, 2011)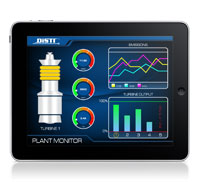 Orlando, FL (PRWEB) March 22, 2011
The DiSTI Corporation, a leading provider of advanced graphical interface technology, has announced a new promotion to showcase the benefits of utilizing GL Studio Embedded for iDevice development. For a limited time only, purchase GL Studio Embedded and receive DiSTI's iDevice Development Bundle for free.
GL Studio, a toolkit which enables the development of high-fidelity graphics, 3D simulations and fully interactive controls, has experienced impressive success during its 10 years. Through the years, GL Studio has grown with technology and adapted to meet expanding market demands. In 2005, DiSTI added support for Embedded Systems with the GL Studio Safety Critical Embedded C++ (SCEC++) code generation option. Now, with the proliferation of Apple's iPod Touch, iPhone, and iPad (iDevices), DiSTI has added the iDevice development bundle to the GL Studio Embedded toolkit, offering developers an improved method for creating advanced graphical user interfaces that utilize OpenGL ES capabilities.
The iDevice development bundle will include runtime library binaries for both OpenGL ES 1.1 and 2.0, depending on the iDevice generation. In addition, an Xcode GL Studio Project Wizard is offered for the seamless creation of new GL Studio projects for Xcode. Equally, an Installation Guide is included to configure a Linux virtual box, enabling the GL Studio developer to run on a Mac. With this bundle, early adopters have access to a Royalty Free iDevice EULA, allowing developers to deploy their GL Studio content to iDevice platforms.
"DiSTI is proud to tailor our products and services to the comments and suggestions of our customers," said DiSTI Sales & Marketing Director Scott Ariotti. "Adding iDevice development capabilities to GL Studio Embedded is the perfect example."
This iDevice promotion is only available until June 31, 2011. Terms and conditions do apply to this limited time offer. For more details, visit http://www.disti.com/promo. To receive your free iDevice development bundle, contact sales (at) disti (dot) com today.
About DiSTI
DiSTI is a global leader in the development of Human Machine Interface software for businesses, governments and the military. The companys flagship product, GL Studio, enables programmers and developers to build highfidelity graphics, 3D simulations and fully interactive controls into their models, enhancing the level of realism and sophistication, while improving learning and retention.
More than 400 customers worldwide, including BAE, Boeing, Dassault, FedEx, Lockheed Martin, Honeywell, Raytheon and Thales, use DiSTI solutions to build maintenance trainers, create PC and Internetbased courseware and to develop components for safetycritical applications. As a full service provider, DiSTI offers a complement of customer programming and development services, and is the recognized leader in training solutions for the global simulation and training community. For more information, visit http://www.disti.com.
###
Read the full story at http://www.prweb.com/releases/2011/03/prweb5184144.htm.
Page: 1
Related Keywords:
computing and information technology,satellite technology,wireless technology,science and technology,technology (general),identification technology,agricultural research and technology,computer crime,computing and information technology,satellite technology,wireless technology,science and technology,technology (general),identification technology,agricultural research and technology,computing and information technology,satellite technology,software,wireless technology,science and technology,technology (general),identification technology,agricultural research and technology,computer crime,software
---