Despite Pressure from Senate, Apple Approves "DUI Dodger", an iPhone App that Empowers its Users to Submit and Locate DUI Checkpoints Throughout the United States
(April 25, 2011)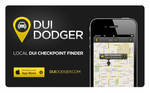 Anaheim Hills, CA (PRWEB) April 25, 2011
In some states, DUI checkpoints are more rampant than ever. Fight back with DUI Dodger, the app that allows users to view and submit DUI checkpoints in their area. The idea is that information is power, and people will be less inclined to drink and drive if they know that there is a checkpoint in their area, that they are drunk, and that driving drunk carries major consequences.
DUI Dodger lets users mark exactly where they saw a DUI checkpoint, which can then be seen by anyone in the area who has the app on their phone.
DUI checkpoints are always changing, so listings expire automatically after 24 hours. If a user finds that a listing is inaccurate, they can flag the listing and it will be indicated on the DUI checkpoint detail screen.
DUI Dodger also comes with a Blood Alcohol Content (BAC) calculator, as well as a game that aims to detect a persons sobriety level by simulating a police field sobriety test. The BAC calculator takes in a number of variables, including age, gender, weight, type of drinks consumed, and duration of consumption, and then returns a persons BAC level based on that information.
In addition to calculating BAC level, DUI Dodger features a walk the line game. In that game, users hold their phone face up, arms extended, and walk in a straight line for 5 to 10 seconds. The phone records the users stability as they walk, and averages it out for the user so they can see for themselves how balanced (or unbalanced) they are.
DUI Dodger not only allows users to see and submit DUI checkpoints, estimates their BAC level, and tests their sobriety, it also provides a number of useful and interesting facts and myths about drunk driving. This information, coupled with knowledge about a persons current sobriety level, will hopefully lead to increased awareness about the dangers of drunk driving.
# # #
Read the full story at http://www.prweb.com/releases/2011/4/prweb8314573.htm.
Page: 1
Related Keywords:
computing and information technology,satellite technology,wireless technology,company information,science and technology,technology (general),identification technology,agricultural research and technology,economy, business and finance,financial and business service,business enterprises,advertising,marketing,business (general),computing and information technology,networking,satellite technology,wireless technology,science and technology,technology (general),identification technology,agricultural research and technology,economy, business and finance,financial and business service,business enterprises,marketing,business (general),computer crime,
---