DesignHuman Colectiv Puts Power & Quality in Mobile Headphones With +KNOB ICE Amplifier
RocketHub Project Seeks Backing to Bring Powerful Headphone Amplification and Quality Sound to Music Lovers Worldwide
(March 06, 2012)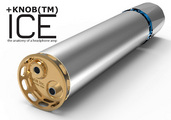 HOLLYWOOD, FL -- (Marketwire) -- 03/06/12 -- Many music lovers are frustrated by the fact that the performance of their high-end headphones suffers from the limitations of their mobile devices. Hollywood, Florida-based DesignHuman Colectiv has designed a solution to the problem.
The +KNOB ICE mobile amplifier restores the highest quality and best performance to headphones designed for use with iPhones, iPads, Androids, nano and other mobile systems -- while limiting power usage even as it delivers as much as eight hours of performance from its rechargeable batteries.
The +KNOB ICE incorporates some of the industry's top technology, including:
Advanced Bluetooth 4.0 technology, with near lossless signal reception
Wireless induction charging
Texas Instruments induction charging chips, which eliminate plug-in charging
"Music lovers do so much of their listening today in mobile environments," said Raul Chinda, president of DesignHuman Colectiv. "They should not have to settle for sub-standard quality because the native systems in their mobile devices are incapable of delivering the full power they expect. With the +KNOB ICE, they will get the same performance that so excited them when they tried out their headphones for the first time in the store."
The +KNOB ICE is expected to retail anywhere between $150 and $180, depending on the finishes chosen, but the first 100 people to pledge $100 will have the opportunity to receive a +KNOB ICE Limited Edition. Other contributors will receive the following:
Pledge $29 and receive an amp module.
Pledge $120 and receive one +KNOB ICE amplifier.
Pledge $240 and receive two +KNOB ICE amplifiers.
Pledge $500 and receive four +KNOB ICE amplifiers and an amp module.
Pledge $1000 and receive ten +KNOB ICE amplifiers.
More information on investment opportunities is available at http://www.rockethub.com/projects/6392-wireless-headphone-amp or contact Raul (at) designhuman.us for more details.
Add to Digg Bookmark with del.icio.us Add to Newsvine
Adriana Sol
Email Contact


Copyright @ Marketwire
Page: 1
Related Keywords:
DesignHuman Colectiv, Marketwire, ,Music,Communications Technology,Other,
---