Deliver Santa's Messages Everywhere With Free Personalized Videos...
At: www.portablenorthpole.tv
(November 01, 2010)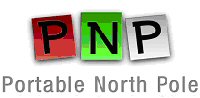 MONTREAL, QUEBEC -- (Marketwire) -- 10/22/10 -- Santa Claus is pleased to announce that, for the third year, his PNP will help make a lot of wishes come true thanks to personalized video messages for kids and adults. As of November 22, his famous PNP console will be online at www.portablenorthpole.tv.
"The PNP console has been a great success since it began," says Alexandre Berard, UgroupMedia President and founder of the project. "The site has distributed more than 10 million personalized video messages from Santa Claus around the world. Users just have to answer a few questions and provide photos so that Santa can deliver something unique and personalized to their kids, friends or partners."
PNP will be offering many new features this year, including messages addressing specific user categories (friends, business relations, lovers etc.), more personalization according to each person's profile and an application for iPhone, iPod and iPad. The Live from the Village daily bulletin will also be posted on the PNP site as of December 1, and it will share news from the North Pole's elf community, and offer tips for children who want to make sure they're on Santa's list.
For more information about the PNP console 2010 and to receive an email as soon as the 2010 is online, visit: www.portablenorthpole.tv. To see high resolution videos and photos, visit the site's Media Centre at: www.portablenorthpole.tv/media.
UgroupMedia
UgroupMedia is a company specializing in the development and deployment of innovative personalized video solutions for the Web. Through its U platform, the company can produce customized videos for customers, edited in real time from the user's choices or from existing user profiles. The success of the Portable North Pole operation has truly demonstrated the scope of UgroupMedia's expertise. Further information is available at www.UgroupMedia.com.
Contacts:
Mark LaVigne, APR, FCPRS
905 841-2017 or C. 416 884-2018
Mark.lavigne@sympatico.ca

Daniel Granger, APR, FCPRS
514 840-7990 or C. 514 232-1556
daniel.granger@acjcommunication.com


Copyright @ Marketwire
Page: 1
Related Keywords:
Portable North Pole, Marketwire, Apple Computer, Internet Technology, Business, Email, Adults, Children,
---