December 21, 2012 -- Total Destruction or a New Beginning?
William Gladstone's Compelling New Novel, "THE TWELVE," Challenges Readers to Embrace the End of the Mayan Calendar -- Creating a Positive World Change Rather Than the Hollywood Cataclysmic Ending; Three Original iPhone Applications Based on "THE TWEL
(October 20, 2009)
LOS ANGELES, CA -- (Marketwire) -- 10/20/09 -- Ultimately, it comes down to one date, one location, and one mission, as the fate of humanity rests in the balance. "THE TWELVE" is an extraordinary and riveting novel in which readers are both entertained and challenged to question the meaning of the Mayan calendar and the importance of 2012. "THE TWELVE" is being heralded as the antidote to the major studio film "2012" and its end-of-the-world fear-based scenario.
The novel's central character, Max Doff, is a most unusual person. Not speaking until age six, his world is filled with numbers and colors. At fifteen, he has a near death experience during which he sees twelve names -- yet for years he doesn't remember the names. Eight years later, while on location in Peru for a film production company, Max meets Maria Magdelena Ramirez. It then comes to him in a flash -- Maria's name was one of the twelve he saw in his near death vision. Throughout the novel Max meets and remembers all twelve but he searches to learn what they have in common and uncover why he is supposed to unite twelve very different people.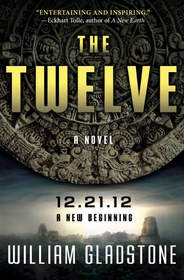 After reading "THE TWELVE," people will have insights into what they can do to transform the world and shift earth's destiny as 2012 draws near. The book's message of faith and hope transcends the fear-based viewpoints that dominate the majority of film and media treatments of 2012.
William Gladstone, a successful businessman educated at Yale and Harvard, draws on many of his own life experiences to create this dramatic story. "Much of what happens to Max happened to me," he explains. "I was born on the same day and had a near death experience when I was fifteen. Max's career and international travels mirror my own life," he continues. "'THE TWELVE' has been written for everyone curious or perplexed by the significance of the Mayan calendar and 2012. It is a journey that links the mysterious legends of The Twelve from ancient Egyptian, Hindu, Muslim, Buddhist, American Indian, Christian, Celtic, and aboriginal cultures to speculation about what will occur in 2012."
As noted author and philosopher Ervin Laszlo says, "We live in critical times -- the future of all of humankind hangs in the balance. 'THE TWELVE' calls attention to this mind-boggling situation in a way that's more effective than any scientific or political treatise. The reader becomes part of The Twelve and so part of the solution -- a unique concept and a unique feat. A positive message when we need it most.
To add to the reading experience, book packager Waterside Productions Inc. engaged mobile application developers to create special iPhone applications for "THE TWELVE" that include a virtual "teaser" with original video content and character and story information; and a 3-D Match Game that is available in basic and enhanced versions for download at the iTunes Application store.
"Entertaining and Inspiring." -- Eckhart Tolle, author of "A New Earth"
"THE TWELVE"
A Novel By William Gladstone
Publisher: Vanguard Press
a member of the Perseus Books Group
Price: $19.95/hardcover
ISBN: 978-1-59315-556-8
Image Available: http://www2.marketwire.com/mw/frame_mw?attachid=1092475

Contact:
Dea Shandera
310 475-2816
deashandera@yahoo.com

Erik Bright
(310) 777-1150 x222
ebright@insigniapr.com


Copyright @ Marketwire
Page: 1
Related Keywords:
2012, December 21, 2012, William Gladstone, Mayan Calendar, Spiritual Adventure, Spiritual, Novel, Camera/Film, Flash, Film Production, Graphics/Design, Peru, Marketwire, Apple Computer, Film, Lifestyle,
---