Dean Evans & Associates, Inc. and Crestron Announce Integration of Room Scheduling System and Touch Screen Devices
Crestron Connected(TM) Scheduling Application (CCSA) Enables Event Management System (EMS) Control From Crestron Touch Screens
(June 06, 2012)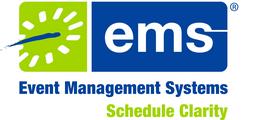 DENVER, CO and ROCKLEIGH, NJ -- (Marketwire) -- 06/06/12 -- Dean Evans & Associates, Inc. (www.dea.com), a leader in the development of sophisticated room scheduling, web calendar and online event registration/survey software, and Crestron, the leading manufacturer of advanced control and automation systems worldwide, today announced the integration of their facility scheduling and touch screen applications. The Crestron Connected™ Scheduling Application (CCSA) now allows organizations to quickly and easily access their Event Management System (EMS) software through a Crestron touch screen. The Crestron TPMC-4SM touch screen works directly with EMS to provide a powerful room scheduling solution.
"The flexibility and openness of our EMS API will allow us to provide a truly user-friendly experience for our customers and partners," said Dean Evans, CEO of Dean Evans & Associates, Inc. "This will enable organizations to better manage their facilities, creating the ultimate in functionality and convenience for all those involved."
Used in higher education, healthcare, corporate settings and many others, EMS software helps organizations streamline their meeting and event scheduling, manage additional resources (catering, equipment, etc.) and optimize room utilization.
Installed outside the entrance to every meeting room, the TPMC-4SM provides an immediate view of each room's availability, with the ability to browse the room's calendar, and even book the room right on-the-spot. A list of nearby rooms which are currently available is also provided. The dual-color buttons give a clear indication of a room's status at-a-glance, lighting green when the room is available and red when it is in use. The touch screen's contoured shape assures that the buttons remains clearly visible at a distance to either side -- even when mounted in a narrow hallway.
"For existing clients, the solution and partnership leverage their current investment in EMS," said Dominick Accurso, Crestron Integrated Partner Program Manager. "Clients now have an easy, upgrade path to adding Crestron touch screens outside the room for seamless room scheduling."
The software will be available for download this month. For more information please visit www.dea.com/partners.
ABOUT CRESTRON
For 40 years Crestron has been the world's leading manufacturer of advanced control and automation systems, innovating technology and reinventing the way people live and work. Providing integrated solutions to control audio, video, lighting, computer, IP and environmental systems, Crestron streamlines technology, improving the quality of life for people in corporate conference rooms, hotels, classrooms, auditoriums, and in their homes. Crestron's leadership stems from its dedicated people who are committed to providing the best products, programs and services in the industry.
In addition to its World Headquarters in Rockleigh, New Jersey, Crestron has sales and support offices throughout the U.S., Canada, Europe, Asia, Latin America and Australia.
ABOUT DEAN EVANS & ASSOCIATES
Founded in 1986 and based in Denver, Dean Evans & Associates is a leader in the development of sophisticated software systems for a wide variety of tasks including: meeting and event scheduling, resource management, academic scheduling, shared workspace management (office "hoteling"), web calendaring and online registration and surveys. More than 4,000 organizations including many Fortune 100 companies and hundreds of other corporations, over 1,000 higher education campuses, five of the six largest U.S. banks and thousands of conference centers, religious organizations, law firms, hospitals, cultural venues and sports facilities rely on EMS software. The company's products are used in over 75 countries. In 2011, Dean Evans & Associates, Inc. was named Customer Service Department of the Year - Computer Software by the American Business Awards. For more information visit www.dea.com and follow Dean Evans & Associates, Inc. on Twitter and LinkedIn.
Christine Schneider
Dean Evans & Associates, Inc.
303-850-2641
christine.schneider@dea.com


Copyright @ Marketwire
Page: 1
Related Keywords:
Dean Evans & Associates, Inc. , Canada, USA, Australia, Marketwire, Inc., Sports, Internet Technology, Business, Sports, Other,
---