Daylite 3.8 Brings Support for MYOB AccountEdge Connector and New Workflow Efficiencies
New MYOB AccountEdge Connector Works With AccountEdge 2009 for the U.S. Market
(November 18, 2008)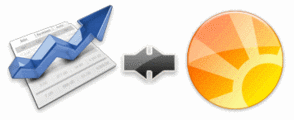 TORONTO -- (Marketwire) -- 11/18/08 -- Marketcircle Inc. brings important time- and cost-saving benefits with today's launch of Daylite MYOB AccountEdge Connector. A new product announced with updated Daylite 3.8, the Connector allows bookkeepers to easily move contact and company data back and forth between the two applications without error-prone, time-consuming re-keying of data. Front office and back office staff can save time and costs by creating estimates in Daylite using AccountEdge's product list, and then, using Daylite's powerful new business tools, can work to win the new business and submit the estimate as an order for the back office to fulfill.
"Over the years, many customers have requested that we integrate Daylite with MYOB AccountEdge as a time- and cost-saving benefit -- which, incidentally, makes a lot of sense in this economy," says Marketcircle CEO, Alykhan Jetha. "Engineering teams from both companies have worked diligently to make this happen, and I think our customers will be very happy with the efficiencies that the new Connector brings."
Daylite MYOB AccountEdge Connector sells for US $99.99 per user and works with MYOB's AccountEdge 2009 for the U.S. market. Daylite 3.8 is a free upgrade for all Daylite 3.x users and is included in the Daylite Productivity Suite that bundles Daylite with Marketcircle's Daylite Mail Integration Module (DMI 2.1.2) for US $189. International pricing applies.
Other new Daylite 3.8 features include:
-- A revised reminder system that allows multiple alarms to be recorded on a task or appointment by different users. The new system improves integration with iCal and reduces synchronization errors -- New "Inbox" and "someday" features for tasks allowing users to better apply David Allen's GTD task management methodology in a multi-user environment. Task statuses and priorities have also been simplified for better synchronization with iCal -- A new global user preferences interface that helps promote more consistency with data classification in multi-user environments. Admins can now centrally manage multiple users' preferences in one place instead of having to hop from machine to machine -- Industry templates for the Recruiting and Custom Software Development industries, boosting Daylite's total built-in business templates to eight -- Plus over 20 other fixes
Try Daylite 3.8 free for 30 days and get more information about the software at http://www.marketcircle.com.
About Marketcircle Inc.
Marketcircle Inc., the Mac business software company, develops award-winning business applications for Mac OS X, including Daylite productivity management software, Daylite Mail Integration Module (DMI), and Billings, a practical time billing and invoicing application. Incorporated in 1999, Marketcircle is located in Toronto, Canada, with partners worldwide.
Copyright 2008, Marketcircle Inc. All rights reserved. Daylite, Daylite 3, Daylite Mail Integration Module (DMI), Daylite MYOB AccountEdge Connector and Billings 3 are trademarks of Marketcircle Inc. All other trademarks are the property of their respective owners.
Add to Digg Bookmark with del.icio.us Add to Newsvine
Media Contact Information
Alykhan Jetha
CEO
Marketcircle Inc.
Email: Email Contact
Phone: +1 905 480 5555

Jill McCubbin
Conversation Architect
market2world communications Inc.
Email: Email Contact
Phone: +1 613 256-3939


Copyright @ Marketwire
Page: 1
Related Keywords:
Marketcircle, Mac, OS9, OSX, Canada, USA, Toronto, Marketwire, Computer Science, Business, Other,
---