DameWare NT Utilities Wins Two WindowsNetworking.com 2011 Readers' Choice Awards
DameWare NTU Took the Top Spot in Both the Administration Tools and Remote Control Categories
(March 29, 2012)
AUSTIN, TX -- (Marketwire) -- 03/29/12 -- WindowsNetworking.com recently named DameWare NT Utilities (DNTU) with 2011 Readers' Choice Awards in two categories, Administration Tools and Remote Control. Part of SolarWinds® (NYSE: SWI) powerful suite of IT management software, DameWare products allow system administrators to manage Windows servers, workstations, desktops, and laptops from remote locations. The latest version introduces both chat and remote screenshot functionality.
"Readers' Choice Awards give visitors to our site the opportunity to vote for the products they view as the very best in their respective category," said Sean Buttigieg, WindowsNetworking.com manager. "WindowsNetworking.com users are specialists in their field who encounter various solutions for Enterprise Networking at the workplace. The award serves as a mark of excellence, providing the ultimate recognition from peers within the industry."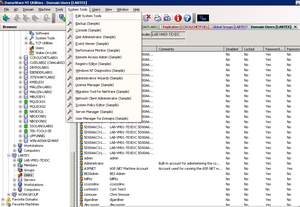 WindowsNetworking.com polls readers monthly on their preferred products for specific categories and allows them to submit their votes for the Readers' Choice Awards onsite, drawing a huge response for every category. WindowsNetworking.com site visitors, largely consisting of network administrators, voted on both categories and selected DameWare NT Utilities as the leading product over Spiceworks, Hyena, and ManageEngine products in the Administration Tools category, and over VNC Enterprise Edition and Radmin 3 Remote Control Software products, among others, in the Remote Control category.
DameWare NT Utilities also won first place for WindowsNetworking.com's Readers' Choice Awards in the Remote Control category for 2011, 2010, and 2008, and was named first runner up in that category in 2009.
DameWare NTU supports Microsoft Windows Network implementations through a dynamic browser tree view. Domain controllers, servers and workstations, as well as non-browseable machines can easily be managed by machine name or IP address after being added to the network browser tree view. DNTU contains several Microsoft Windows administration tools including DameWare Mini Remote Control (MRC), and supports the use of standard shell property pages and shell context menus.
DameWare NT Utilities includes:
All of the features in Mini Remote Control, plus:
Windows management in which you can remotely support domains, workstations, disk drives, computers, and more from a single location
Active Directory capability that retrieves, searches, filters, and manages all AD objects and attributes
Exporter that takes information from remote machines and saves it as XML or CSV files
DameWare Mini Remote Control includes:
NEW chat function that lets you communicate online in real time with your remote user as you troubleshoot or configure the remote machine
NEW screenshot function that allows you to capture and store an image of the remote machine in one simple step
Extensive security and encryption abilities, including multiple authentication methods like Smart Card and Encrypted Windows Logon
Connectivity options like IPv4 and IPv6 support, Wake-on-LAN ability, and proxy server availability
Deployment, use, and end-user support that is flexible and easy to understand
DameWare NT Utilities and Mini Remote Control are two of five key products in the SolarWinds systems management product portfolio. Together, these products address the troubleshooting, patch management, and performance monitoring needs of the system administrator. This portfolio also includes Server & Application Monitor (SAM), Synthetic End User Monitor (SeUM), and Patch Manager.
Pricing and Availability
Pricing for DameWare NT Utilities starts at $349 and pricing for DameWare Mini Remote Control starts at $99. For more information, visit the DameWare website.
Related Links
About WindowsNetworking.com
WindowsNetworking.com, a Microsoft Windows Networking resource site, is a leading Enterprise Networking site with over 660,000 network administrators and specialists visiting every month. It offer the latest Windows Networking services, articles, and other materials from leading Windows Networking experts, message boards, software listings, and product reviews.
About SolarWinds
SolarWinds (NYSE: SWI) provides powerful and affordable IT management software to customers worldwide -- from Fortune 500 enterprises to small businesses. We work to put our users first and remove the obstacles that have become "status quo" in traditional enterprise software. SolarWinds products are downloadable, easy to use and maintain, and provide the power, scale, and flexibility needed to address users' management priorities. Our online user community, thwack, is a gathering place where tens of thousands of IT pros solve problems, share technology, and participate in product development for all of SolarWinds' products. Learn more today at http://www.solarwinds.com.
DameWare, SolarWinds, SolarWinds.com, thwack and the SolarWinds logo are registered trademarks of SolarWinds. All other company and product names mentioned are used only for identification purposes and may be trademarks or registered trademarks of their respective companies.
Image Available: http://www2.marketwire.com/mw/frame_mw?attachid=1931303

Add to Digg Bookmark with del.icio.us Add to Newsvine
MEDIA CONTACT:
Tiffany Nels
SolarWinds
Phone: 512.682.9545
pr@solarwinds.com


Copyright @ Marketwire
Page: 1
Related Keywords:
DameWare, NT Utilities, WindowsNetworking, Windows, servers, Remote Control, Administration Tools, Security, Networking, Computer Technology, Authentication, Administration, Authentication, Patch Management, Administration, Server Hardware, Software/Systems Mgmt, Server Computers, Management, Network Administrators, Windows, Marketwire, , Other,
---