DCT Increases Revolving Credit Facility 50% to $3 Million
Positions Company to Facilitate Increase in Size and Volume of Expected Global Orders
(November 16, 2011)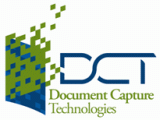 SANTA CLARA, CA -- (Marketwire) -- 11/16/11 -- Document Capture Technologies, Inc. (OTCBB: DCMT), a global IP-driven leader in the design, development, manufacture and sale of advanced imaging technologies for over a decade, today announced that the Company has increased its revolving credit facility by 50% to $3 million effective November 15, 2011.
DCT recently released Q3 revenues, which at $5.3 million were 48% ahead of the same quarter 2010 and the highest in the Company's history. For the nine months 2011, revenues were 24% higher. With EPS for the quarter of 3 cents and breakeven for the first nine months, management expects 2011 to be a record year.
To date, DCT has funded this growth with working capital and without requiring any borrowings under its credit line. To be prepared for the continued growth in DCT's business, management determined that an increased credit facility would be desirable. Particularly with the prospect of more and larger orders for overseas markets, this increased credit facility will facilitate the continued expansion of DCT's global business.
"DCT has a history of strategic forward planning and given the increased sales demand and robustness we are seeing in the RDC (Remote Deposit Capture) space, we are positioning ourselves to easily facilitate the larger orders we have delivered to date and expect in the future," said David P. Clark, Chief Executive Officer of Document Capture. "As we are seeing rising strength in virtually all of the verticals we serve, including finance and healthcare, this action is a appropriate to prepare for not only the global order growth we have seen, but also to deal effectively with new clients and deepen our legacy client relationships."
About Document Capture Technologies
Document Capture Technologies (OTCBB: DCMT) is a worldwide leader in the design, development, manufacturing, and sale of USB powered mobile page-fed document capture platforms. DCMT provides more than 30 different products across multiple distinct categories, which are distributed globally through private label solutions to leading Tier 1 OEMs, VARs and other system integrators, including Brother, Burroughs Payment Systems, Digital Check, NCR and Qualcomm.
For additional information, please see Document Capture Technologies' corporate website: www.docucap.com.
This press release is neither an offer to sell nor the solicitation of an offer to buy any securities of DCMT.
Forward-Looking Statements
Statements contained in this press release, which are not historical facts, are forward-looking statements as that term is defined in the Private Securities Litigation Reform Act of 1995. These forward-looking statements are based largely on current expectations and are subject to a number of known and unknown risks, uncertainties and other factors beyond the Company's control that could cause actual events and results to differ materially from these statements. These risks include, without limitation, that there can be no assurance that any strategic opportunities will be available to the Company and that any strategic opportunities may only be available on terms not acceptable to the Company. These statements are not guarantees of future performance, and readers are cautioned not to place undue reliance on these forward-looking statements, which speak only as of the date of this release. DCMT undertakes no obligation to update publicly any forward-looking statements.
Add to Digg Bookmark with del.icio.us Add to Newsvine
Contact:
Document Capture Technologies, Inc.
David P. Clark
CEO
408-213-3701
Email Contact


Copyright @ Marketwire
Page: 1
Related Keywords:
scanners, usb, portable scanners, scanning page fed scanning, Marketwire, Inc., , Business, Other,
---