DCIA & CCA Forge Strategic Alliance, Announce CCW: 2012
Trade Associations Combine Forces to Serve Industry's Explosive Growth
(May 16, 2012)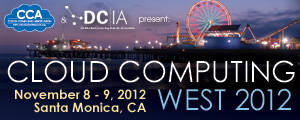 WASHINGTON, DC and NEW YORK, NY -- (Marketwire) -- 05/16/12 -- The Distributed Computing Industry Association (www.DCIA.info) and the Cloud Computing Association (www.cloudcomputingassn.org) today announced a strategic alliance to better serve expanding industry needs driven by the explosive growth of cloud computing in the software sector.
The trade organizations also announced plans for their first jointly sponsored event, CLOUD COMPUTING WEST 2012 (CCW: 2012), November 8th-9th in Santa Monica, CA.
CCW: 2012 will feature three co-located conferences focusing on the impact of cloud-based solutions in the industry's fastest-moving and most strategically important areas: entertainment, broadband, and venture financing.
More information is available at www.cloudcomputingassn.org/CloudWest and prospective participants are encouraged to call 410-476-7965 or e-mail info@dcia.info for details.
As part of the strategic alliance, DCIA member company employees will be offered the opportunity to become CCA professional members. And CCA individual members will be offered opportunities to participate in DCIA member company activities.
The DCIA most recently presented the CLOUD COMPUTING CONFERENCE within the 2012 NAB Show, focusing on cloud solutions for broadcasting. On the same date at a different location, the CCA presented Cloud Computing in Healthcare and in the Public Sector focusing on cloud solutions for healthcare and government.
"This timely partnership will enable us to better serve our rapidly expanding industry by integrating a dual focus on individual participants as well as companies. People as well as enterprises have major stakes in the ongoing cloud-computing revolution, and we are thrilled to be working with the CCA to drive continued success on both fronts," said DCIA CEO Marty Lafferty.
"We've been astonished by the responsiveness of software sector representatives to the initial efforts of CCA to bring buyers and sellers of cloud-based solutions together. We look forward to leveraging the depth of experience of the DCIA in this space as we team with them to increase the scope and effectiveness of our combined service offerings," added CCA Executive Director Don Buford.
About the DCIA
The DCIA is an international trade organization, established in 2003, with more than one-hundred industry-leading member companies, including software developers, broadband network operators, and content providers. The DCIA conducts working groups, oversees political initiatives, and publishes the weekly online newsletter DCINFO.
About the CCA
The CCA is an independent membership organization, founded in 2012, dedicated to building a community of end-users and service providers of cloud-based solutions and products through individual professional memberships and industry conferences. The CCA has quickly amassed a contact list of three-hundred thousand industry participants.
Media Contacts

Kelly Larabee
410-476-7965
Email Contact

Ria Lubis
Director, Membership, Media & Marketing Relations
Cloud Computing Association (CCA)
212-300-2523
Email Contact


Copyright @ Marketwire
Page: 1
Related Keywords:
iiBIG, Marketwire, , National Association of Broadcasters, Entertainment,
---