D-Link Now Offers Macintosh Owners Free Upgrade to Enable SharePort(TM) Technology for Sharing USB Devices
Mac Users Can Share Printers, External Hard Drives and More Across Network With Existing Xtreme N Routers
(May 20, 2009)

FOUNTAIN VALLEY, CA -- (Marketwire) -- 05/20/09 -- D-Link today announced that Macintosh users can now take advantage of the popular free upgrade for Xtreme N® and RangeBooster N® routers to enable D-Link's SharePort(TM) technology for sharing printers, multi-function printers (MFP) and virtually any other USB device from any location in the home or office -- in either a wired or Wi-Fi environment.
SharePort turns the local USB port located on the back of select 802.11n Wi-Fi routers into a fast and responsive virtual port so users can access a range of USB devices by utilizing a new technology of USB over TCP/IP.
The innovative SharePort USB network-bridging feature is included on all new D-Link Xtreme N Gigabit Router models -- the DIR-655, DIR-825, DIR-855, DGL-4500 Gaming Router with GameFuel® and the D-Link RangeBooster N DIR-628. It also will be available on the upcoming DIR-685 Xtreme N Storage Router with digital photo frame, NAS storage and print server capabilities.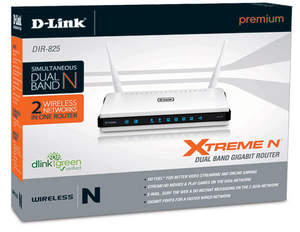 Current owners of those routers, now using either PC and Macintosh computers, will be able to upgrade to SharePort technology by downloading the latest firmware and client utility from the D-Link website, www.support.dlink.com.
"SharePort has been one of the most popular and well-received upgrades to our 802.11n routers by PC users," said Daniel Kelley, senior director of marketing, D-Link Systems, Inc. in Fountain Valley, Calif. "We are pleased that Mac users also will be able to benefit from our SharePort USB-sharing technology available with our Xtreme N and RangeBooster N wireless router product lines. In offering this free upgrade we are further meeting the consumer's need for the most sought-after features of network functionality, and offering the ideal centerpiece for a wireless network in the digital home or small office."
Another key feature of D-Link Xtreme N Gigabit Routers is D-Link Green(TM), incorporating technology that uses an innovative, energy-saving feature to automatically detect link status and network cable length, and then adjusts power accordingly. Also, a Wi-Fi scheduling feature allows customers to easily program when the Wi-Fi radio signals are turned on and off to further save energy consumption. To learn more about the D-Link Green family of products, visit www.dlinkgreen.com.
Price and Availability
SharePort for Mac users is available now in D-Link's family of high-end 802.11n routers -- the DIR-628, DIR-655, DIR-825, DIR-855 and DGL-4500 -- which are sold through D-Link's vast network of computer retailers, etailers and online store, www.dlinkshop.com. Current PC users with D-Link 802.11n routers can access the benefits of the SharePort features free of charge by downloading the firmware and client utility from the D-Link website, www.support.dlink.com.
About D-Link
D-Link is the global leader in connectivity for small, medium and large enterprise business networking. The company continues to strive for excellence as an award winning designer, developer, and manufacturer of networking, broadband, digital electronics, voice and data communications solutions for the digital home, Small Office/Home Office (SOHO), Small to Medium Business (SMB), and Workgroup to Enterprise environments. With millions of networking and connectivity products manufactured and shipped, D-Link is a dominant market participant and price/performance leader in the networking and communications market. D-Link Systems, Inc. headquarters are located at 17595 Mt. Herrmann Street, Fountain Valley, CA, 92708. Phone (800) 326-1688 or (714) 885-6000; FAX (866) 743-4905; Internet www.dlink.com.
D-Link, Xtreme N, GameFuel, GamerLounge, SharePort, RangeBooster N, D-Link Green and the D-Link logo are trademarks or registered trademarks of D-Link Corporation or its subsidiaries in the United States and other countries. All other third party marks mentioned herein may be trademarks of their respective owners. Copyright © 2009. D-Link Corporation/D-Link Systems, Inc. All Rights Reserved.
Image Available: http://www2.marketwire.com/mw/frame_mw?attachid=986647

Copyright @ Marketwire
Page: 1
Related Keywords:
D-Link Systems, Inc., Sales & Marketing, Storage, Networking, Computer Technology, Internet, Business Issues, Misc, Connectivity, Server Hardware, Wireless, Server Computers, Routers, Computers/Peripherals, Internet/Web, Business, Computer, Workstation/CPU, Network (LAN), WiFi/Wireless, Internet, Broadband, Marketing, Copyright, Storage, Mac, OS9, OSX, USA, Marketwire, Inc., Internet Technology, Business, Internet, Family, Other,
---