Customer Experience Virtual Conference to Showcase 20 Thought Leaders Revealing Fundamental Transformations, Disruptive Ideas Over Coming Decade
November 10 Live Broadcast: The New Experience Economy, Featuring Insights From Adobe, IBM, Best Buy, Forrester Research and More
(November 08, 2011)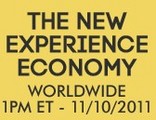 ATLANTA, GA -- (Marketwire) -- 11/08/11 -- The New Experience Economy virtual conference will unveil exclusive videos from 20 thought leaders, along with a new model for understanding customer experience, on Thursday, Nov. 10 from 1-2 p.m. EST. This free event will feature speakers from organizations including IBM, Adobe, Sprint, Best Buy, and Forrester, as well as New York Times best-selling author Joe Pine, who originally coined the term "the experience economy."
The event, which is sponsored by ClickFox, the leader in a new breed of customer experience analytics, will explore the major shifts that have occurred since Pine and his co-author, Jim Gilmore, originally published "The Experience Economy."
Speakers will examine trends changing the face of today's experience economy, ranging from Big Data Analytics and context-accumulating technology to social media customer service and community-driven product research, development, and innovation. Presenters include:
B. Joseph Pine II, author, "The Experience Economy" and "Infinite Possibility"
Brian Solis, author, "The End of Business As Usual"
Kerry Bodine, Vice President, Principal Analyst, Forrester
Chip Conley, Founder, Joie de Vivre
Jeanne Bliss, author, "I Love You More Than My Dog"
Jeff Jonas, Chief Scientist of IBM Entity Analytics Group
Kevin Cochrane, VP of Enterprise Marketing, Customer Experience, Adobe
Lance Williams, Director of Customer Management, Sprint
Marco Pacelli, CEO, ClickFox
Peter Merholz, Founder, Adaptive Path
Stefan Tornquist, VP of Research (US), Econsultancy
Steve Rubel, EVP Global Strategy and Insights, Edelman
Tom Huston, Digital Editor at ThoughtLead, the think tank and marketing agency producing the conference, will help explain these shifts through a new model he calls "The Integral Customer Experience," or ICX. The model aims to make deeper sense of the radically changing and evolving nature of customer experience in an increasingly complex economy.
Brian Solis, author of "The End of Business As Usual," underscores the fact that customer experience is currently undergoing fundamental changes -- and will continue to in the years to come. "The future of your business, your brand, is not created in a top-down, one-to-many monologue style," he says. "This is the age of the connected customer. This is the age of servicing an audience with an audience of audiences. In fact, these individuals are more connected than even the most traditional media."
Click here to register now for free. Participants can submit comments and questions via Twitter by using the hashtag #newexp their tweets, which may be answered as part of a live Q&A with ClickFox CEO, Marco Pacelli, and Econsultancy VP of Research (US), Stefan Tornquist, at the end. Those who register but are unable to participate in the live event will still receive access to the video replay, MP3 recording, and PDF transcript.
Add to Digg Bookmark with del.icio.us Add to Newsvine
For Media Inquires
Kimya Coker
ClickFox
Email Contact
404-351-8020

Kali Bean
Edelman for ClickFox
Email Contact
503-580-4645


Copyright @ Marketwire
Page: 1
Related Keywords:
customer experience, big data, consumer behavior, social media, user experience, analytics, Marketwire, , Business,
---