Cupid Strikes "22 Minutes"
Valentine's Day romance blossoms into comedy in all-new episode
(February 10, 2012)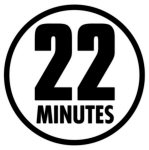 HALIFAX, NOVA SCOTIA -- (Marketwire) -- 02/10/12 --
Editor's Note: There is a photo associated with this press release.
Whether you are head over heels, recently jilted or stubbornly single, romance breeds laughter this Valentine's Day on Canada's well-loved comedy show, This Hour Has 22 Minutes.
The 22 Minutes February 14 episode takes a light-hearted look at sappy sentiment with "Things We Hate About Valentine's Day" and with Shaun Majumder discovering how to express love at Hallmark's Canadian headquarters.
Watch Betty Hope (Cathy Jones) set fear into the hearts of significant exs in the Panic Room. And even impromptu Valentine's engagements take a hit when the Rock Block is revealed over a romantic dinner.
Also in the February 14 episode the ever-popular Rex Murphy (Mark Critch) shares his heartfelt sentiments around the Queen's proposed Diamond Jubilee celebration. And 22 Minutes parodies the new hit TV series "Smash", with Canada's equivalent, "Grant".
Dine out Monday the 13th and skip the Valentine's Day crowds so you can stay home on February 14 to share laughs with your sweetheart during this all-new 22 Minutes episode.
This Hour Has 22 Minutes airs Tuesdays, 8:30 pm (9:00 pm in Newfoundland) on CBC Television. Follow the show on facebook.com/22minutes or twitter @22_minutes.
About "This Hour Has 22 Minutes"
This Hour Has 22 Minutes celebrates its 19th rabble-rousing, no-holds-barred season of Canadian political comedy and commentary. Always on top of any breaking news (and sometimes doing the breaking), this season of This Hour Has 22 Minutes features cast members Mark Critch, Shaun Majumder, and Cathy Jones. Visit "22 Minutes" online at www.cbc.ca/22minutes. Follow "22 Minutes" on facebook.com/22minutes and twitter @22_minutes.
"This Hour Has 22 Minutes" is produced by DHX Media in association with CBC Television.
About DHX Media:
DHX Media, together with its subsidiary, W!LDBRAIN Entertainment, is a leading international family entertainment rights creation and management company three award-winning production facilities, worldwide distribution and a global consumer products business. DHX Media has produced over 40 original television series and maintains a library of over 2,500 half-hours of animation and live-action programming. DHX Media has offices in Toronto, Halifax, Vancouver, Los Angeles and London. DHX Media is listed on the TSX (Toronto Stock Exchange). www.dhxmedia.com.
To view the photo associated with this press release, please visit the following link: http://www.marketwire.com/library/20120210-susan_takes_aim0210_800.jpg
Contacts:
Terri McCulloch
This Hour Has 22 Minutes (DHX Media)
CBC Halifax
902-420-4011
c 902-254-4041
[email protected]


Copyright @ Marketwire
Page: 1
Related Keywords:
This Hour Has 22 Minutes , Marketwire, ,Television,Business,Entertainment,Family,
---