CrowdFanatic Releases Today at DEMO Spring 2012 a 'Groups-Connectivity Layer' on Facebook
The Revolutionary App Connects Facebook's Groups and Pages Directly With Each Other and Forms a New Layer of Functionality on Facebook
(April 19, 2012)

SANTA CLARA, CA -- (Marketwire) -- 04/19/12 -- CrowdFanatic announces today at DEMO Spring 2012 event, the release of a game changing environment on Facebook, CrowdFanatic App, the 'Groups-Connectivity Layer.' A revolutionary application which directly connects groups and pages on Facebook with each other.
Using the app, The Hunger Games fans can challenge Twilight fans, Apple aficionados can engage hard core Androiders and Romney supporters can try to convert Obama's voters to win the election.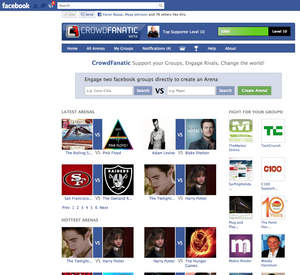 According to CrowdFanatic, Facebook groups and pages act as isolated islands with no bridges to other groups and limited ways to promote their causes or challenge rivals. Facebook connects individuals with individuals, but misses a layer to connect groups with each other to reflect real world interactions.
No more. CrowdFanatic presents today the 'Groups Connectivity Layer' on Facebook. The gamified app enables Facebook users to engage directly two Facebook groups or pages with each other in a competitive, gamified Arena.
In that A vs B arena, supporters of two rival groups engage directly to promote their cause, initiate a democratic dialog or challenge opponents. They vote for their group, debate over relevant topics, recruit more supporters and send viral messages to promote their group -- all in order to win public debates and sway public opinion to their side.
The new environment is poised to revolutionize the way commercial brands, political movements, sports teams, celebrities and their supporters can gain public support and engage rivals.
"CrowdFanatic on Facebook is a game changer," said Matt Marshall, executive producer of DEMO. "It empowers users with the ability to fight actively for their groups and has a good potential to change the way groups use social media to promote their cause."
"Our goal is to provide a democratic arena that promotes direct dialog between rivals in a fun and entertaining way," said Yaron Bazaz, founder and CEO of CrowdFanatic. "A healthy competitive rivalry is in the heart of our culture. We believe that an environment that facilitates direct engagements of groups is an important step in the evolution of the internet and a great tool for brands and users to adopt."
To experience the CrowdFanatic app on Facebook go to https://apps.facebook.com/crowdfanaticapp (make sure to login to Facebook first).
A Video of the CrowdFanatic presentation at Demo Spring 2012 will be released at www.demo.com in the coming days.
About CrowdFanatic
CrowdFanatic is the first Direct Engagement Platform -- a totally new genre of online services for groups to deliberately engage rivals in order to win public debates, initiate direct dialogue with opponents and sway public opinion. CrowdFanatic is based in Vancouver, BC and Sunnyvale, California. Join us at apps.facebook.com/crowdfanaticapp and www.crowdfanatic.com . Follow us at https://twitter.com/crowdfanatic
About DEMO
Produced by the IDG Enterprise events group, the worldwide DEMO conferences focus on emerging technologies and new products innovations, which are hand selected from across the spectrum of the technology marketplace. The DEMO conferences have earned their reputation for consistently identifying cutting-edge technologies and helping entrepreneurs secure venture funding and establish critical business. For more information on the DEMO conferences, visit http://www.demo.com/.
Image Available: http://www2.marketwire.com/mw/frame_mw?attachid=1954601

Add to Digg Bookmark with del.icio.us Add to Newsvine
For more information and interview opportunities please contact:

Yaron Bazaz
Founder and CEO
CrowdFanatic Online Inc.
www.crowdfanatic.com
Email Contact
1-650-319-8877
1-778-895-2703
440 N. Wolfe Rd., Sunnyvale, CA 94085
Suite 200-52 A Powell Street Vancouver, BC V6A 1E7


Copyright @ Marketwire
Page: 1
Related Keywords:
CrowdFanatic, Groups-Connectivity Layer for facebook, Direct Engagement Platform, engage rivals, debate, Marketwire, Inc., , Sports, Internet Technology, Biology, Business, Internet, Sports, Other,
---