Coverjam Makes Music Come Alive on iPhone, iPod Touch and iPad
(July 19, 2011)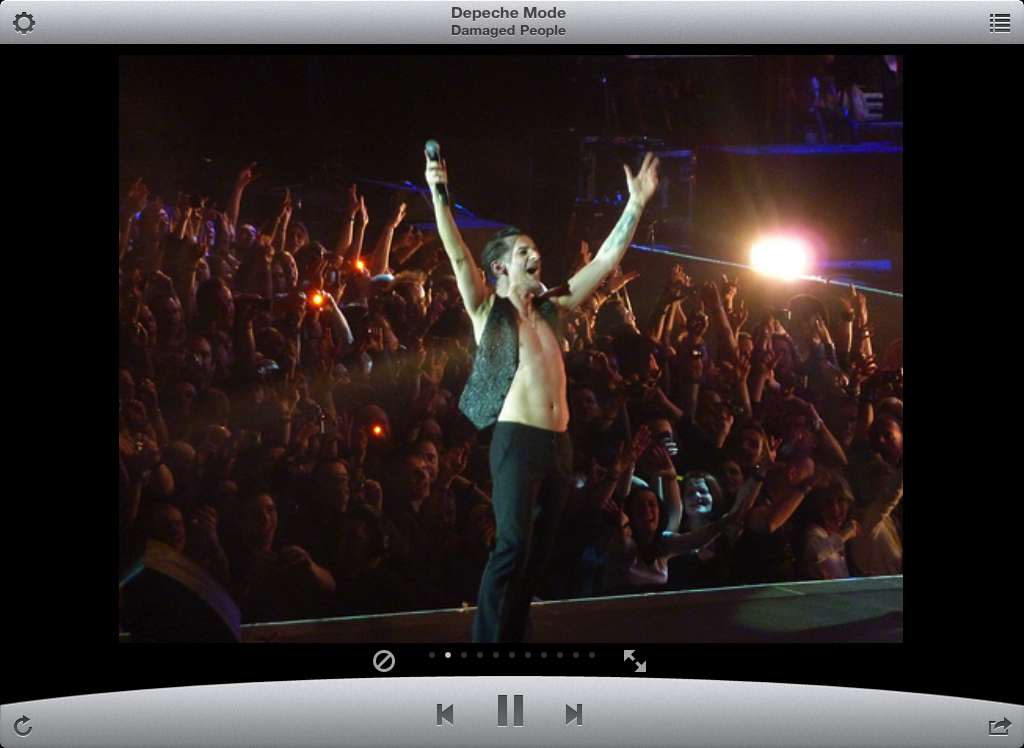 Wye Valley, UK (PRWEB) July 19, 2011
Electric Pocket Limited today launched Coverjam for iOS, a first-of-its kind app which automatically taps into the image libraries of Instagram and Flickr to create beautiful multimedia slideshows of each artist as their music is playing. For the first time, music lovers will have more than just cover art to look at while listening to their favorite bands.
Coverjam uses an instantly familiar interface to control users music, and automatically retrieves images tagged with the artists names from Instagram and Flickr and begins displaying them while the music is playing. Upon its launch, Coverjam loads the users music from their iOS device, allows the user to select songs, albums or playlists and then fetches the latest images to display while the song is playing.
Coverjam is the perfect way for an artists fans to see the latest and greatest images of the acts they love, said Iain Barclay, Electric Pockets Chief Product Officer. Whether its the latest tour photos, new photo-shoots, or art created by other fans, the photos in Coverjam are sure to delight the most avid music lovers.
Coverjam fits in well with users current ways of playing music. Users who are already listening to music via the default iPod player can simply launch Coverjam with their music playing and the app will seamlessly load photos for the song being played.
Features of Coverjam Include:

Photo sharing via Facebook, Twitter or email
A fresh slide-set each time the music track advances to the next song
The ability to select music from either the iPod music player or Coverjam
Viewing photos in Safari, with options for learning more about them and seeing other photos by the same photographers
The free version of Coverjam includes advertising and is available for iPhone and iPod Touch devices, and will run in 2x mode on an iPad. Coverjam Pro offers a stunning full-screen experience on iPad, iPhone and iPod touch with no ads for US$0.99.
For more information, visit http://www.coverjamapp.com. A video demonstration of Coverjam is available on YouTube.
Coverjam uses the Instagram API and Flickr API but is not endorsed or certified by Instagram or by Flickr.
About Electric Pocket Limited
Electric Pocket has been developing mobile applications and solutions for over 10 year from its base in the Wye Valley, UK. The companys award winning product portfolio includes apps for iPhone, Android, BlackBerry and webOS. Electric Pocket provides engineering jump-start and consultancy services for companies looking to deliver great mobile products. For more information, visit http://www.electricpocket.com.
###
Read the full story at http://www.prweb.com/releases/2011/7/prweb8652811.htm.
Page: 1
Related Keywords:
computing and information technology, satellite technology, wireless technology, science and technology, technology (general), identification technology, agricultural research and technology, computing and information technology, satellite technology, software, wireless technology, science and technology, technology (general), identification technology, agricultural research and technology, consumer goods, consumer issue, consumer confidence, consumer issue, music industry, music theatre, plastic art, rock and roll music, popular music, jazz music, folk music, country music, classical music,
---