Covanta Energy Selected as CIO 100 Award Honoree by CIO Magazine
Top 100 Companies Recognized for Innovative IT and Business Initiatives
(June 05, 2012)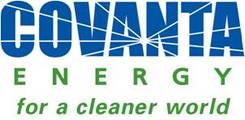 MORRISTOWN, NJ -- (Marketwire) -- 06/05/12 -- IDG's CIO magazine named Covanta Energy, an internationally recognized owner and operator of large-scale Energy-from-Waste and renewable energy projects, as a recipient of the 2012 CIO 100 award. Now in its 25th year, CIO magazine's annual awards program recognizes organizations around the world which exemplify the highest level of operational and strategic excellence in information technology (IT). This is the first year that Covanta has won this award.
"For 25 years now, the CIO 100 awards have honored the innovative use of technology to deliver genuine business value," said Maryfran Johnson, Editor in Chief of CIO magazine & events. "Our 2012 winners are an outstanding example of the transformative power of IT to drive everything from revenue growth to competitive advantage."
"We are honored by this recognition and proud to be included among this esteemed group of companies widely known for technology innovation," said Stuart Kippelman, Chief Information Officer at Covanta Energy. "At Covanta, we pride ourselves on our ability to foster innovation and remain on the cutting edge of technology trends in our industry. These two things have been integral to Covanta's success and industry leadership."
With a concerted effort across the company to enable global research and development, Covanta continues to be at the forefront of technology innovation in the Energy-from-Waste industry. Earlier this year, Covanta completed testing on a first-of-its-kind gasification technology for Energy-from-Waste facilities in the United States. Ongoing IT initiatives focused on data aggregation and systems integration continue to transform the operational environment, providing the entire enterprise with timely, accurate and actionable data to support world class decision making.
Executives from the winning companies will be recognized at the CIO 100 Symposium & Awards Ceremony, to be held Tuesday, Aug. 21 at the Terranea Resort in Rancho Palos Verdes, Calif.
Complete coverage of the 2012 CIO 100 awards will be online at www.cio.com on August 1, 2012 and in the August 1st issue of CIO magazine.
About Covanta
Covanta Energy Corporation is an internationally recognized owner and operator of large-scale Energy-from-Waste and renewable energy projects and a recipient of the Energy Innovator Award from the U.S. Department of Energy's Office of Energy Efficiency and Renewable Energy. Covanta's 45 Energy-from-Waste facilities provide communities with an environmentally sound solution to their solid waste disposal needs by using that municipal solid waste to generate clean, renewable energy. Annually, Covanta's modern Energy-from-Waste facilities safely and securely convert approximately 20 million tons of waste into 9 million megawatt hours of clean renewable electricity and more than 9 billion pounds of steam that are sold to a variety of industries. For more information, visit www.covantaenergy.com.
About CIO Magazine
CIO produces award-winning content and community resources for information technology executives and leaders thriving and prospering in this fast-paced era of business, as well as creates opportunities for information technology and consumer marketers to reach them. The CIO portfolio includes CIO.com, CIO magazine (launched in 1987), CIO Executive Programs and the CIO Executive Council. CIO properties provide business technology leaders with analysis and insight on information technology trends and a keen understanding of IT's role in achieving business goals. The U.S. edition of the magazine and website are recipients of more than 200 awards to date, including the American Society of Business Publication Editor's Top B-to-B Magazine since 2000 and two Grand Neals from the Jesse H. Neal National Business Journalism Awards. CIO websites and printed publications appear in more than 25 countries, including Australia, Canada, Finland, India and Sweden. CIO Executive Programs -- a series of face-to-face conferences including the CIO 100 Awards & Symposium™ -- provide educational and networking opportunities for pre-qualified corporate and government leaders. The CIO Executive Council is a professional organization of CIOs created to serve as an unbiased and trusted peer advisory group. CIO is published by IDG Enterprise, a subsidiary of International Data Group (IDG), the world's leading media, events, and research company. Company information is available at www.idgenterprise.com.
Copyright @ Marketwire
Page: 1
Related Keywords:
Covanta Energy, Networking, Canada, USA, India, Australia, Marketwire, IT (Information Technology), Networking, Environmental Technology, Green Technology, Computer Science, Business, india,
---