Cotendo Raises $7 Million From Sequoia Capital and Benchmark Capital
Funding Will Support Market Rollout of Cotendo's Content Delivery Applications Suite
(March 11, 2009)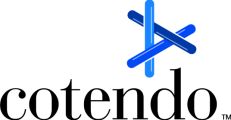 SAN CARLOS, CA -- (Marketwire) -- 03/11/09 -- Cotendo, a content delivery network and innovator of software-focused CDN technologies, today announced that the company has raised $7 million in Series B financing from Sequoia Capital and Benchmark Capital. The new financing round, which follows initial funding by Sequoia Capital in January 2008, enables Cotendo to augment its team, bring its advanced suite of content delivery applications to the market, and accelerate new product development activities. The Cotendo Content Delivery Applications Suite, also announced today, offers an unparalleled combination of high-performance delivery and application-level flexibility and control to Internet content providers.
Ronni Zehavi, Cotendo's CEO, commented: "We are well capitalized as we bring our Content Delivery Applications Suite to a market primed for a software-based approach to performance management and expense control. Our technical team continues to anticipate the evolving needs of sophisticated content providers. We appreciate the support of our investors as we grow our organization and innovate our service at the speed of software."
Zehavi noted that Arad Naveh, General Partner at Benchmark Capital, has joined Cotendo's board of directors. The other board members are Randy Ditzler and Haim Sadger, Partners at Sequoia Capital, and Cotendo CEO Zehavi.
"Some areas of technology get starved for a long time. Content delivery is one of them. It has been years since fresh eyes were trained on the subject and during this period the amount of content conveyed around the Internet has multiplied at a rate that even rabbits would admire," said Michael Moritz, general partner of Sequoia Capital. "Cotendo offers a reprieve for content providers trapped within the confines of antiquated solutions."
"Internet content delivery is becoming a primary focus for content providers as they develop strategies to grow revenues and establish enduring business models. Content providers are keen to invest in technologies that deliver improved performance, efficiency, and cost savings," said Arad Naveh of Benchmark Capital. "We are confident that Cotendo -- with its vision, groundbreaking technology, and exceptional management -- is poised to make a major impact on the CDN industry."
"Since we first funded the company last year, Cotendo has developed and deployed a world-class suite of content delivery applications," said Randy Ditzler of Sequoia Capital. "With the only CDN service designed specifically as a high performance, agile delivery platform, Cotendo is well positioned to become a leader in the CDN marketplace."
About Cotendo
Cotendo is a content delivery network and an innovator of software-focused CDN technologies. Cotendo's full suite of content delivery applications is addressing an important unmet need that Internet content providers have for application-level flexibility and sophisticated management of performance and cost. Cotendo is led by experts in intelligent content management and content delivery networks. Founded in 2008, Cotendo is funded by Sequoia Capital and Benchmark Capital. The company is headquartered in Silicon Valley with R&D based in Israel. For more information about Cotendo and its Content Delivery Applications Suite, visit www.cotendo.com.
About Sequoia Capital
Sequoia Capital provides venture capital funding to founders of startups who want to turn business ideas into companies. As the "Entrepreneurs Behind the Entrepreneurs," Sequoia Capital's Partners have worked with innovators such as Steve Jobs of Apple Computer, Larry Ellison of Oracle, Bob Swanson of Linear Technology, Sandy Lerner and Len Bozack of Cisco Systems, Dan Warmenhoven of NetApp, Jerry Yang and David Filo of Yahoo!, Jen-Hsun Huang of NVIDIA, Michael Marks of Flextronics, Larry Page and Sergey Brin of Google, Chad Hurley and Steve Chen of YouTube and Dominic Orr and Keerti Melkote of Aruba Wireless Networks. To learn more about Sequoia Capital visit www.sequoiacap.com.
About Benchmark Capital
Benchmark Capital, a leading international venture capital firm, was founded in 1995 to help talented entrepreneurs with original ideas build successful technology companies. Benchmark's general partners take a team-oriented, labor-intensive approach to venture investing to deliver a superior level of service to the firm's portfolio companies. Benchmark's portfolio includes high-profile start-ups like Infinera, MySQL, OpenTable, Second Life, Tellme, Yelp, and Zillow, and franchise companies such as eBay, Juniper Networks and Red Hat. The firm manages nearly $2.8 billion in committed venture capital. For more information on Benchmark Capital, visit its website at www.benchmark.com.
Press Contacts:

Jan Wiedrick-Kozlowski
+1 585 392-7878
jan@commstrat.net

Liz Youngs
+1 843 971-7140
liz@commstrat.net


Copyright @ Marketwire
Page: 1
Related Keywords:
Cotendo, Content Delivery Network, CDN, Dynamic Site Acceleration, DSA, CDN Balancer , Applications, Internet, Business Issues, Internet Server Applications, Management, CEO/CFO, Mac, OS9, OSX, Israel, Marketwire, Apple Computer, Internet Technology, Business, Internet, Other,
---