Corum Group Releases Tech M&A iPhone App
(May 11, 2011)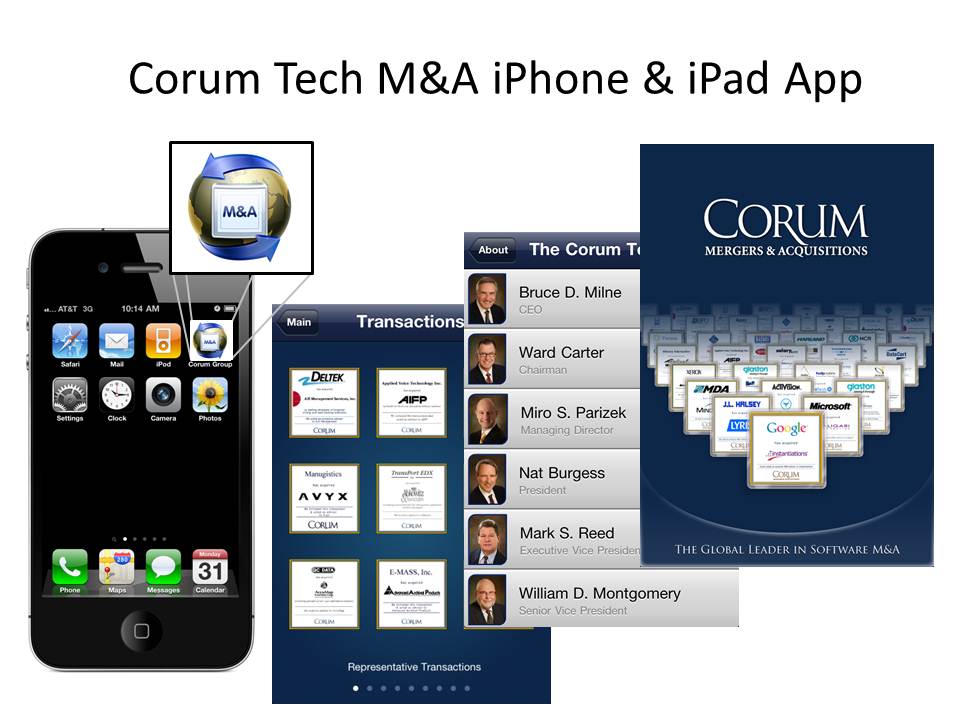 Seattle, WA (PRWEB) May 11, 2011
Leading Mergers & Acquisitions specialist Corum Group has released an iPhone and iPad application, the Tech M&A App, developed by Nanaimo Studio. This application will enable technology company executives and investors to access a wealth of information and resources about software and technology M&A.
Events often happen quite quickly in the M&A marketplace, said Corum CEO Bruce Milne, And the faster you can get updates, the more informed you are and the more successful you can be in building value in your tech company. Our iPhone app helps you to stay as current with the M&A market as we do.
Corum Group's reputation as a powerhouse in the M&A field is reflected in the expertise of its staff and the vital information distributed via the Corum website (http://www.corumgroup.com) and presented by Corum in over 100 executive education events annually. Corums App distills this information into easily-accessed iPhone and iPad resources and live feeds, including blog entries, videos, webinars, and expert articles, as well as access to a database of representative transactions and valuation resources.
The Tech M&A App is designed specifically with software entrepreneurs and investors in mind, giving them access to resources that will help them grow value in a company and prepare a strategy for an M&A liquidity event. Users can message with Corum Group staff globally, check weekly education schedules, follow Corum Groups Software M&A Blog, sample Tech M&A Monthly webinars, see recent M&A transactions and review white papers. The application is free from the Apple iTunes Store, and is indispensable to anyone planning M&A in the future.
About Nanaimo Studio
Nanaimo Studio is a Seattle-based software development studio focused on creating web and mobile-based applications. In addition to the Corum Groups Tech M&A App and its server-side feed bridge, Nanaimo has developed and shipped numerous other apps, including Idea Organizer, a What's Hot List-featured app, and Hungry Monster, a new app developed by two-time Pulitzer Prize winning designer Steve Breen.
About The Corum Group
With offices globally, the Corum Group has sold more privately held software, IT, internet, content, mobile and related technology companies than anyone in the world. In this leadership role as an M&A advisor, Corum sponsors over 100 executive educational events a year in 32 countries on building value, selling a software company, and current issues tech M&A. These educational events, co-sponsorships, and M&A services provide a wealth of experience and information to draw upon to help software and tech company entrepreneurs in their efforts to harvest wealth from the sale of their companies.
# # #
Read the full story at http://www.prweb.com/releases/2011/5/prweb8412877.htm.
Page: 1
Related Keywords:
computing and information technology,satellite technology,wireless technology,company information,science and technology,technology (general),identification technology,agricultural research and technology,economy, business and finance,waste management and pollution control,financial and business service,business enterprises,management change,business (general),merger, acquisition and takeover,computer crime,computing and information technology,satellite technology,wireless technology,science and technology,technology (general),identification technology,agricultural research and technology,computer crime,software,economy, business and finance,financial and business service,business enterprises,
---