Cortina Systems Announces SFP+ ZR and DWDM Interoperability With Sumitomo Electric Device Innovations, Inc
Enabling the Metro and Telecom Links With the SFP+ Form Factor Cost, Density, and Power Advantages
(February 27, 2012)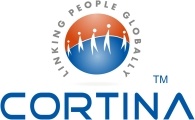 SUNNYVALE, CA -- (Marketwire) -- 02/27/12 -- Cortina Systems, Inc. (Cortina), delivering innovative technologies that link people and networks worldwide, and Sumitomo Electric Device Innovations (SEDU), today announced interoperability between Cortina CS4315 Dual Port and CS4340 Quad Port 10G EDC PHYs, and Sumitomo Electric's 10G ZR and DWDM SFP+ modules. In high density data centers and enterprise networks, 10G SFP+ has become the optical module form factor of choice for 10 Gbps links due to its cost, size and power advantages over other module types. SFP+ ZR and DWDM modules extend these advantages to the metro and telecom markets.
System vendors targeting SFP+ ZR and DWDM modules can leverage the proven interoperability between Cortina EDC PHYs and Sumitomo Electric modules to deploy SFP+ based solutions that support SMF link reaches up to 80 km. With a supported data rate of 9.95-11.3 Gbps, these links support multiple protocols including OC-192, SONET, 10GbE, and OTN with FEC. Additionally, SFP+ ZR and DWDM interoperate seamlessly with legacy XFP and X2 modules.
"The ongoing bandwidth explosion, with the increasing demand for faceplate densities is driving the adoption of SFP+ module form factor across all 10G market segments," said Scott Feller, Director Marketing, Cortina Systems. "By supporting all SFP+ module types, optical and copper, Cortina EDC PHYs enable single line card designs that support the complete spectrum of applications and link distances. The proven interoperability to SFP+ DWDM and ZR modules opens up the 10G SFP+ for metro and telecom markets."
"Sumitomo recognizes and supports customers' demands to extend the SFP+ form factor advantages to the metro and telecom markets," commented Kaz Tanida, Executive Vice President, SEDU. "Proven interoperability between Sumitomo Electric 10G ZR and DWDM SFP+ modules and Cortina CS4315 devices provides customers with a commercially ready solution to address this important market segment."
"SFP+ is the ultimate low-cost transceiver MSA and it is enormously popular," commented Brad Smith, Senior VP at LightCounting, a market research company. "It is used everywhere from the server and switch infrastructure inside a data center all the way out now to 80 km in the Metro loop. LightCounting forecasts that the SFP+ 10G ZR 80km modules will account for 50% of all long reach 10 GigE transceivers shipped in 2012. Shipments of SFP+ transceivers for 80 km reach SONET/SDH and DWDM applications are just starting to ramp up this year and projected to grow substantially in 2013-2015."
About Cortina 10G EDC PHYs :
The Cortina 10G EDC PHY portfolio includes dual port and quad port devices with XFI, RXAUI, XAUI, and SFI 4.2 Host interfaces. These devices deliver industry leading performance with full compliance to all SFP+ interface types including 10GBase-LRM, and Passive and Active Direct Attach Copper. These devices also include support for standards such as MACSec security, Synchronous Ethernet, and IEEE 1588. The performance and comprehensive feature set, in addition to low power and small footprint, makes Cortina EDC PHYs an ideal choice for high density 10G, 40G, and 100G designs.
About Cortina Systems
Cortina Systems, Inc. is a leading provider of high-performance communications semiconductor solutions enabling next generation network connectivity and efficient bandwidth delivery from the core network to the home network. Our broad product portfolio includes carrier-class semiconductor devices for next generation optical transport and passive optical network systems, as well as data center connectivity and digital home solutions.
For more information, please visit www.cortina-systems.com
About Sumitomo Electric Device Innovations, Inc
Sumitomo Electric Device Innovation, Inc., a subsidiary of Sumitomo Electric Industries, Ltd., was launched as a new company in August 2009 by integrating the wireless and optical transmission device business of Eudyna Devices, Inc. and Sumitomo Electric. SEDI designs and manufactures optical/wireless components, subsystems to the telecom, CATV, broadband data communication and wireless markets. SEDI is one of the world's leading companies in the optical communication components market, while also providing various solutions in other areas such as mobile communication, consumer-use application and automobile markets.
http://www.sedi.co.jp
Contacts:

Barbara Kolbl
Cortina Systems, Inc.
(916) 293-0787
Cell: (408) 594-9744
Email Contact

Michael Hara
Cortina Systems, Inc.
(408) 481-2347
Email Contact

SEI/SEDI Contact:
Effie Favreau
Global Marketing
SEDU
603-929-7313
Email Contact


Copyright @ Marketwire
Page: 1
Related Keywords:
Cortina Systems, Computers/Peripherals, Home, WiFi/Wireless, Security, Computers/Home Office, Communications, Web, Networks, Security, Applications, Security, Research, Marketwire, Inc., , Copper, Business, Other,
---