Coremetrics Makes Online Marketing Data Actionable Across the Enterprise With Coremetrics Analytics(TM) 2010
Real-Time Data, Mobile Access and Collaboration Tools Help Marketers Quickly Act on New Business Opportunities
(April 28, 2010)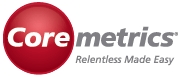 SAN MATEO, CA -- (Marketwire) -- 04/28/10 -- Coremetrics, the leader in marketing optimization, today unveiled a major new release of its online marketing platform during Client Summit 2010, the company's customer conference, held in Austin, Texas. The Coremetrics Continuous Optimization Platform is the industry's only fully integrated suite of applications and services that enables marketers to transform marketing metrics into actionable insights that drive measurable business value. Designed to reflect feedback from Coremetrics customers, the entirely new platform features real-time data, mobile access, and collaboration tools that help businesses respond immediately and strategically to market opportunities.
"Today's marketers need the ability to see across their organizations and make split-second decisions, frequently while they're on the go," said Joe Davis, CEO, Coremetrics. "Our new and expanded Continuous Optimization Platform will address the real challenges and opportunities that brands face in an increasingly digital world."
"The importance of digital marketing analysis tools continues to expand as practitioners become increasingly accountable for campaign spending and performance of the online channels," said Bill Gassman, research director at Gartner. "Being competitive requires a collaborative decision-making environment with flexible and continuous access to analysis of ongoing operations."
Real-Time Data
Coremetrics Analytics™ 2010 forms the foundation for real-time data, collaboration and true mobile access. It gives marketing teams -- from the CMO to the practitioner -- a set of fully integrated solutions to quickly and confidently drive business decisions based on relevant, insightful marketing metrics.
State-of-the art dashboards with real-time performance metrics
Automated insights and recommended actions through new visualization tools that spotlight conversion trends, performance hot spots and outliers
Contextual navigation and visual discovery for efficient decision making
Intuitive, easy-to-use heat maps with standard deviation scale
Advanced distributed architecture to effectively handle both small and extremely large data loads with guaranteed enterprise-class service levels
"We need analytics technology that matches the sophistication of our users -- technology that monitors our online presence and helps us to understand complex behaviors in a clear and actionable way," said Matthew DiAntonio, senior manager, online marketing and web analytics, Trend Micro. "Successful business is driven by insightful, data-driven decisions and not guesswork. A sophisticated analytics and online marketing platform, such as Coremetrics, offers you a way to understand and react to your online community in a way that improves business and customer satisfaction."
Mobile Access
Coremetrics for Mobile™
Coremetrics for Mobile provides on-the-go access to all critical Coremetrics Analytics 2010 information and performance data. Coremetrics for Mobile is available as a free, native iPhone® app and operates seamlessly on all major smart mobile devices, including BlackBerry® and Android™. Coremetrics for Mobile is also available for iPad.
App Measurement for iPhone and iPad
Coremetrics Analytics 2010 customers will be able to measure and analyze the use of native applications being run on iPhone and iPad.
Mobile Reporting
Marketers will now see reporting on these mobile devices -- in addition to the BlackBerry, Android and others -- within their Coremetrics Analytics 2010 environment automatically.
Coremetrics Benchmark™ for Mobile and Gaming Devices
Coremetrics Benchmark, the industry's only peer-level benchmarking solution that measures online marketing results, including sales metrics, against those of the competition, will now enable marketers to report on sales from mobile devices, notably iPhone, iPod® touch, iPad, BlackBerry, Android, and all major gaming devices, such as the Nintendo® Wii, Sony PlayStation®, and Xbox 360. More than 500 leading U.S. retailers will contribute information about sales from mobile and gaming devices to Benchmark. All data is aggregated and anonymized. Coremetrics also recently enhanced Benchmark to include near-real-time metrics and added advanced functionality, such as sales trends by comparison period, conversion rates from Pay per Click (PPC) campaigns, and website traffic by browser type.
Collaboration
Coremetrics Analytics 2010 enables marketers to easily share information and insights to drive consistent, fact-based decisions across all marketing functions and other lines of business. The application includes trend annotations, intuitive comment trails and "sticky notes" so that marketers can highlight and share key insights with colleagues. To share relevant information by audience, marketers can instantly administer views of specific information from selected brands, product areas or lines of business.
The new Continuous Optimization Platform and applications will be available worldwide in June 2010. All Coremetrics customers will be fully upgraded to the new platform with no additional IT involvement or contract amendments.
About Coremetrics
Coremetrics is the leader in marketing optimization. Its products help businesses relentlessly optimize their marketing programs to make the best offer, every time, anywhere, automatically. More than 2,100 online brands globally use Coremetrics' Software as a Service (SaaS) to optimize their online marketing. Coremetrics' integrated marketing optimization solutions include real-time personalized recommendations, email targeting, display ad targeting across leading ad networks, and search engine bid management. The company's solutions are delivered on the only online analytics platform designed to anticipate the needs of every customer, automate marketing decisions in real time, and syndicate information across all customer channels. The company is privately held with funding from Accel Partners, FTV Capital, Highland Capital Partners, and W Capital Partners, and is headquartered in San Mateo, California.
Find more information at coremetrics.com or 866-493-2673.
Coremetrics has strongly supported online privacy since its inception. To learn more, visit www.coremetrics.com/privacy.
Coremetrics, the Coremetrics logo, Coremetrics Analytics, Coremetrics Benchmark, and Coremetrics for Mobile, are either registered trademarks or trademarks of Coremetrics in the United States and/or other countries. All other trademarks are the property of their respective owners.
Add to Digg Bookmark with del.icio.us Add to Newsvine
Media Contacts
Michela Stribling
Senior Director, Corporate Communications
Tel: (650) 762-1433
Email: Email Contact

Shelley Risk
Horn Group for Coremetrics
Tel: (415) 905-4037
Email: Email Contact


Copyright @ Marketwire
Page: 1
Related Keywords:
Coremetrics, Web Analytics, SaaS, Marketing optimization , Displays,Internet,Digital Media Software,Communications,Digital Audio,Web,PDA,iPods,iphone,iPad,Search,Applications,Research,browser,EMail,USA,Marketwire,Sony,Apple Computer,Games,Internet Technology,Game Technology,Business,Email,Other,
---