Corecon Technologies Introduces TeamLink Portal Project Management Collaboration Solution
Corecon Technologies' New Collaboration Tool Connects the Internal Efforts of Employees and Gives Project Owners and Other Outside Team Members Secure, Real-Time Access to Important Project Information Increasing Communication, Improving Construction
(December 12, 2011)

HUNTINGTON BEACH, CA -- (Marketwire) -- 12/12/11 -- Corecon Technologies, Inc., a pioneer in web-based construction software, today introduces its new TeamLink Portal for use with its flagship product Corecon V7. The TeamLink Portal is a user friendly Web-based service that provides subscribers of Corecon V7 with an economical solution to seamlessly connect project team members. Within the Portal, the project owner, consultants, subcontractors and suppliers have secure, real-time access to project information.
"The new TeamLink Portal is a significant advancement in project management and one of our firm's most transformational technological solutions to date," said Corecon Technologies President Norman Wendl. "With the TeamLink Portal, subscribers of the Corecon V7 construction software suite now have a secure online solution to improve communication among project team members. This revolutionary portal gives the right team member, the right information at the right time -- a crucial aspect to increasing productivity, mitigating risk and achieving project success in an industry where volumes of information are exchanged and communicated among project team members throughout the course of a project."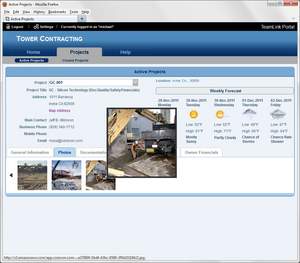 The foundation for this collaboration tool is Corecon V7, a Web-based platform for estimating, project management, job cost control and scheduling. The new TeamLink Portal complements Corecon V7 by providing "external" team members with the ability to collaborate on project information without having to purchase their own subscription to Corecon V7 software.
The Portal supports all browsers (Google Chrome, Apple Safari, Internet Explorer and Firefox) and requires no plug-ins to be installed. Once an internal or external team member logs in to the solution, navigation and access to project information corresponding to all phases of the project from preconstruction and bidding through project completion is quick, easy and secure. Within the portal, team members can collaborate with one another by being able to access, respond to and store project information.
For example, during preconstruction and bidding, the TeamLink Portal can be used to capture project drawings, store RFPs and allows subcontractors and suppliers to submit pricing remotely. During construction, team members can access and comment on information they are given permission to see including Journals, RFIs, Submittals, Punchlist items and Schedules. Plus, Corecon's Project Calendar and Alerts features track time-sensitive material and alert staff to overdue items or team member responses. Team members can also upload and share project files on the TeamLink Portal including drawings, CAD and BIM files and photographs.
The TeamLink Portal also provides value on and after project completion. All documentation through the life of the project is stored on the portal, so final project documentation such as, as-built drawings and product manuals can be downloaded by the building owner, further extending the benefits of this technology throughout the life of the facility.
Security in the TeamLink portal is granular and flexible enough to meet the needs of both internal and external users of Corecon's platform. To accommodate this requirement, there are two types of security systems for Corecon. The first is for internal employees that applies to Corecon V7; Corecon Mobile for use with smartphones and tablets; and CoreconLink Utilities, an integrated solution for accounting and Microsoft Outlook. The second type of security is for outside team members that access the TeamLink Portal. Both of these systems are password protected and are managed within Corecon V7 by an internal Administrator who can set either no access, partial access or full access to information. The Portal also accommodates multiple projects and different project roles for the same outside team members.
An economical construction collaboration solution, the TeamLink Portal is free to all Corecon V7 subscribers and can be used among the entire project team at no extra cost.
About Corecon Technologies
Corecon Technologies provides project management software solutions for general contractors, subcontractors, homebuilders, remodelers, developers, engineering and professional service firms. Corecon's flagship product, Corecon V7, has been recognized as one of Constructech Magazine's Top Residential and Commercial Products in 2011 and the firm has been named Constructech's Hottest Companies and Companies to Watch in the past years. Utilizing the latest Web technologies, Corecon's online construction software suite provides constant connectivity anywhere, anytime whether using a laptop, netbook, tablet or mobile phone. The firm is the only company with a web-based suite of construction software on the market that provides business development, estimating, document control, contract administration, job cost control, scheduling and collaboration with integration options to popular accounting systems such as Intuit Quickbooks or SAP Business One®. Based in Huntington Beach, Calif., the company was founded more than a decade ago by construction industry experts who seek to design software that provides cost-effective, user-friendly tools to ensure successful project delivery. For more information about Corecon Technologies and Corecon V7, visit www.corecon.com or call toll free at 1-866-258-6698.
To download a high resolution screen capture of TeamLink Portal, please visit: http://www.corecon.com/AboutUs/PressRoom/Images.aspx
Image Available: http://www2.marketwire.com/mw/frame_mw?attachid=1828562

MEDIA CONTACTS:
Laura Mickelson
LM Communications
949-453-0851
Email Contact

Jennifer Heinly
J&J Consulting
949-716-9829
Email Contact


Copyright @ Marketwire
Page: 1
Related Keywords:
construction software, construction project management, construction project management software, Computers/Peripherals,Internet,Notebook/Laptop,Tablets,Digital Media Software,Computers/Home Office,Communications,Web,Notebooks,Security,Utilities,Smart Phone,Security,Post/Production,CAD,Management,Management,Internet/Web,Business,Internet,Web,CAD/CAM/CAE,CAD/CAM,Dassault Systemes,Marketwire, Inc., ,General Contractors,Communications Technology,Internet Technology,Business,Internet,Browsers,Other,
---