Coraid Named AlwaysOn OnDemand Top 100 Winner
Company's Ethernet SAN Solutions Recognized for Second Consecutive Year for Disruptive Price-Performance in Cloud Computing and Virtualized Environments
(March 20, 2012)

REDWOOD CITY, CA -- (Marketwire) -- 03/20/12 -- Coraid® Inc., a leading developer of Ethernet SAN solutions with more than 1,500 customers worldwide, today announced that it has been selected as an AlwaysOn OnDemand Top 100 winner. The OnDemand 100 recognizes the top emerging private companies that demonstrate leadership amongst peers, and innovative approaches on technology that will disrupt existing markets. This marks the second year in a row that Coraid has been honored by the AlwaysOn editorial team and industry experts across the globe for their inventive approach, market potential, commercialization, stakeholder value and media buzz.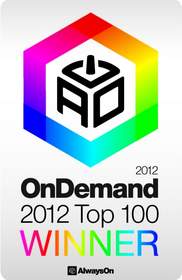 Coraid and CEO Kevin Brown will be honored at AlwaysOn's OnDemand event on April 4th, 2012, at Hewlett-Packard's Executive Briefing Center in Cupertino, CA. This two-and-a-half-day executive event features CEO presentations and high-level debates on how the Internet is disrupting how companies -- from small businesses to large enterprises -- create, store, distribute, analyze, and take advantage of their mission-critical data.
"Digital information has expanded exponentially during the past year. As the emergence of robust, innovative apps needed to manage this information continues, a complex world of interconnected business intelligence and ideas is being created at a new macro level," says Tony Perkins, founder and editor of AlwaysOn. "This year's OnDemand 100 winners are continuing to use disruptive technology and ideas to merge valuable legacy data and systems with new, vital streams of information. The results are being deployed in the cloud by any number of SaaS products and services, changing the way all business coexist. The OnDemand 100 continues to represent some of the highest-growth opportunities in the private company marketplace."
The OnDemand 100 winners were selected from among hundreds of other technology companies nominated by investors, bankers, journalists, and industry insiders. The AlwaysOn editorial team conducted a rigorous three-month selection process to finalize the 2012 list.
Coraid EtherDrive solutions provide enterprises of all sizes with flexible, high-performance storage while eliminating the complexity of traditional SAN solutions. Using an innovative scale-out SAN architecture and standard Ethernet, Coraid EtherDrive storage arrays provide lower OPEX and faster than Fibre Channel performance at commodity hardware economics. EtherDrive is ideally suited to dynamic high-performance computing, virtualization, video and cloud computing environments.
"Coraid's Ethernet SAN and scale-out architecture are uniquely positioned to eliminate the storage bottleneck legacy vendors have created, and provide the architecture needed for virtualization and cloud computing environments," says Coraid CEO, Kevin Brown. "As the need for on-demand storage services increases within the enterprise so does the demand for elastic, cost-effective and high-performance data storage. We'd like to thank AlwaysOn for once again recognizing the disruptive nature of our Ethernet SAN solutions."
About Coraid
Coraid redefines storage economics with its breakthrough line of EtherDrive storage solutions. EtherDrive delivers scale-out performance, Ethernet simplicity, and faster than Fibre Channel performance at commodity hardware economics. Designed from the ground up for virtualization and cloud architectures, Coraid solutions have been deployed by more than 1,500 customers worldwide. For more information, visit www.coraid.com or follow Coraid on Twitter at www.twitter.com/Coraid or LinkedIn at http://www.linkedin.com/companies/Coraid.
About AlwaysOn
AlwaysOn is the leading business media brand networking the Global Silicon Valley. AlwaysOn helped ignite the social media revolution in early 2003 when it launched the AlwaysOn network. In 2004, it became the first media brand to socially network its online readers and event attendees. AlwaysOn's preeminent executive event series includes the Silicon Valley Innovation Summit, OnMedia, OnHollywood, IMPACT Venture Summit Mid-Atlantic, Venture Summit East, OnDemand, Venture Summit Silicon Valley, OnMobile, and GoingGreen Silicon Valley. The AlwaysOn network and live event series continue to lead the industry by empowering its readers, event participants, sponsors, and advertisers like no other media brand.
Coraid and EtherDrive are registered trademarks of Coraid, Inc. All other marks referenced are the property of their respective owners.
Image Available: http://www2.marketwire.com/mw/frame_mw?attachid=1922310

Copyright @ Marketwire
Page: 1
Related Keywords:
Coraid, Ethernet, SAN, virtualization, cloud, storage, ATA, AoE, high-performance, video, OnDemand, Storage, Networking, Internet, Hardware, Cloud Computing, Services, Misc, Architecture, Social Media, application services, Pro AV, Business Media, Presentors, Internet/Web, Business, Internet, Social Media, Business Issues, Business Media, Presentation, Channel/Distribution, Storage, Marketwire, Inc., , Internet Technology, Business, Internet, Other,
---