Cooperation Between the German Wind Energy Association (BWE) and Beuth Verlag
A Strong Partner in the Wind Energy Sector: Beuth Verlag and the German Wind Energy Association (BWE) Are Cooperating in the Sales and Distribution of Wind Energy Titles
(June 05, 2012)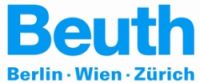 BERLIN -- (Marketwire) -- 06/05/12 -- Beuth Verlag will begin by taking on six BWE publications covering various aspects of the wind power sector intended for all those who design, finance, and operate wind turbines.
The cooperation is being kicked off with the latest publications Wind Industry in Germany 2012, which was issued in April this year, and the standard work Wind Energy Market 2012 - Yearbook of Wind Energy Technology and Service, The Wind Industry in Germany 2012, already in its 22nd edition. Both publications are available in German and in English at Beuth's webshop at www.beuth.de/scer/wind-energy. Further titles on wind energy are planned for 2013.
Through this cooperation the BWE hopes to profit from Beuth's extensive experience as a major technical publisher, especially its growing digital section. All new Beuth titles are also published in electronic format, and every tenth item purchased at Beuth is an eBook.
"Over the past few years BWE publications have quickly established themselves as standard reference works for the wind energy sector. We are pleased with the increasing sales of our titles, especially the industry directories, and hope to continue this positive trend through our cooperation with Beuth Verlag. The sales of eBooks will open up new markets for us," says BWE Managing Director Henning Dettmer.
On its part, Beuth Verlag looks forward to taking advantage of BWE's expert knowledge of the wind energy industry, for the publisher is heavily expanding its renewable energy programme. As early as 2009 Beuth took on the Solarpraxis AG programme, including well-known titles such as Photovoltaics for Professionals. Jürgen Kölling, Managing Director at Beuth Verlag, says, "We are very pleased that we can use this cooperation as a foundation for mutual collaboration based on trust. Being a subsidiary of DIN, the German Institute for Standardization, as well as one of Germany's leading technical publishers, we want to support the switch to clean energy in Germany through innovative products. And that will only work with the help of strong partners like the BWE."
About the German Wind Energy Association (BWE): With some 20,000 members, the BWE is one of the world's largest associations in the renewables sector. For years, this technical association has been increasingly successful in sustainably expanding the use of wind power in Germany. BWE experts participate in international associations such as the European Wind Energy Association (EWEA), the Global Wind Energy Council (GWEC) and the World Wind Energy Association (WWEA) in developing wind energy within Europe and across the world.
About Beuth Verlag: A subsidiary of DIN, the German Institute for Standardization, Beuth Verlag distributes national and international standards and technical rules, as well as technical literature in all media formats for businesses of all sizes, research and academic organizations, trade associations, service organizations, and the trades.
Beuth's wind energy publication programme:
www.beuth.de/scer/wind-energy
Contacts

Beuth Verlag
Patrick Kennedy
Press Relations / PR / Online Editor
Tel. +49 30 2601 2079
Fax +49 30 2601 1724
[email protected]

German Wind Energy Association (BWE)
Alexander Sewohl
Press Relations Officer
Tel. +49 30 212341-251
Fax +49 30 212341-410
[email protected]

Regarding Beuth/BWE cooperation:
Thorsten Paulsen
Head
"Conferences & Corporate Publishing"
Tel: +49 30 212 341 166
[email protected]


Copyright @ Marketwire
Page: 1
Related Keywords:
Beuth Verlag, Germany, Marketwire, Literature, Lifestyle, Environmental Technology, Green Technology, Engineering,
---