Convertigo Introduces Open Source Version of Integration Platform for Mashups and Mobile Development
(December 01, 2011)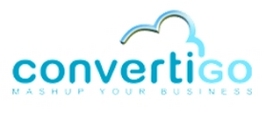 PARIS and SAN FRANCISCO, CA -- (Marketwire) -- 12/01/11 -- Convertigo announced the first open source edition of its core software integration platform. Now, within minutes and at no charge, developers can join the Convertigo Community and start using one of the industry's most powerful integration tool sets to solve enterprise integration problems for legacy, portal and mobile applications.
"Convertigo further demonstrates its commitment to open source with its new software offering and its continued participation in the GateIn and eXo Platform communities," said Jason Andersen, director of product marketing, Middleware, at Red Hat. "Convertigo's Community Edition adds significant value to the development cycle by greatly reducing the time and effort it takes to create enterprise mashups, mobile applications and portals, such as the JBoss Enterprise Portal Platform."
"We welcome Convertigo in the Open Source community. It is great to have such a powerful integration platform to offer to our eXo developers," said Benjamin Mestrallet eXo Platform's CEO.
The Convertigo Enterprise Mashup Server (C-EMS), Community Edition, is available now under an Affero GPL license. The Convertigo R&D department as well as the Convertigo service team will moderate code contributors and product evolution in accordance with open source community expectations.
Enterprise-class Integration Tools
Community Edition is based on Convertigo's proven integration technology, which mixes and orchestrates data and processes coming from any enterprise or web application. More than 300 Convertigo customers design, publish and deploy next-generation application portals and mobile applications at a fraction of the time and resources it would take using traditional methods. Main functionalities of Convertigo's Community Edition include:
Connectors -- for any SQL, REST, SOAP, RSS, ATOM or Microsoft Excel file;
Sequencer -- combines, orchestrates and exposes new REST, SOAP or JSON services;
Gadgetizer -- feed portals with services and widgets for Microsoft SharePoint, Oracle Web Center, IBM WebSphere portal or any open source portal;
Mobilizer -- build and deploy cross-platform mobile native or web applications for iOS, Android, BlackBerry and Windows Mobile.
Convertigo Community Edition is the foundational tool set of C-EMS 6.0. A feature comparison chart is available to help IT professionals decide which edition is best for their company. For companies that have enterprise licensing and support requirements, and HTML and mainframe connectors, Convertigo also offers the following editions:
Convertigo Enterprise Edition -- for on-premise deployments;
Convertigo Cloud Edition -- for cloud deployments;
Convertigo Extended Edition -- for global deployments.
"We are excited to contribute an open source enterprise integration solution for global companies," said Olivier Picciotto, CEO of Convertigo. "Developers can now test and prepare their business application mashups and mobile projects for free and with confidence. This is a revolutionary approach to agile integration, which helps IT departments cope with limited budgets and staff resources, and growing project backlogs."
About Convertigo:
Convertigo provides enterprise integration software for mashup and mobile applications. Convertigo Enterprise Mashup Server (C-EMS) allows companies to combine and deploy within next generation portals and native or web mobile applications, data and business processes coming from multiple enterprise and web sources. Convertigo solutions are deployed at more than 300 customers worldwide, primarily in the finance and retail industries. C-EMS delivers short term ROI by reducing development costs in a spectacular way. It exposes and leverages any legacy or web-based transactional applications and mash them up with any other IT assets. Convertigo is running operations in France, Benelux and United States as well as leveraging a network of resellers and partners over the globe.
www.convertigo.com
http://blog.convertigo.com/
Convertigo
8 boulevard Dubreuil
91400 Orsay, France
+33 (0)1 69 18 79 00

San Francisco, USA
+1 (415) 800-4195

Anvers, Belgium
+32 (0)475 74 38 21


Copyright @ Marketwire
Page: 1
Related Keywords:
enterprise mashups, software integration, open source, mainframes, mobile application development, Applications, Finance, Sales & Marketing, Productivity Applications, Internet, Business Issues, Other Applications, Open Source, Internet Server Applications, Web Servers, IT Professionals, Finance/Accounting, Finance/Accounting, France, USA, Marketwire, , Internet Technology, Biology, Business, Other,
---