Contenix Launches Platform for Premium Brands to Manage and Distribute Digital Assets
(March 24, 2011)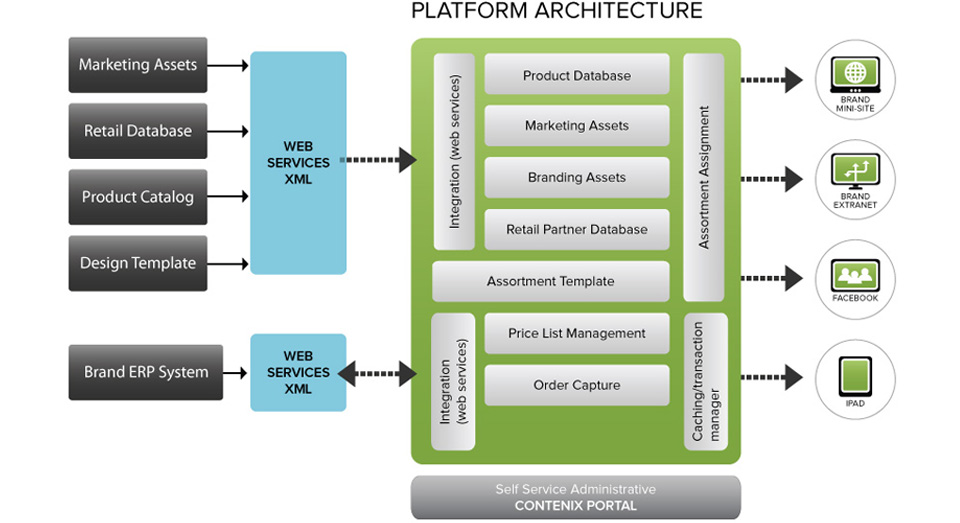 Basel, Switzerland (PRWEB) March 24, 2011
Contenix debuted the Contenix Application Portal, a SaaS-based solution that enables premium brands to control, manage and distribute their digital brand assets across global channels all via the cloud and from one easy-to-use dashboard. The Contenix Application Portal provides a simple and scalable platform that lets premium brands better engage with multichannel shoppers while ensuring a flawless brand experience that is consistent with their prestigious brand image.
In todays multichannel world, consumers are researching and shopping for their favorite brands across multiple channels, devices, and countries. They want to connect with their favorite brands on the web, on the go, and via social media channels. These consumers also expect, particularly when considering a premium brand, a superior brand experience that reinforces the brands core attributes. Delivering a truly superior experience across multiple channels is a real challenge for todays brand owners. They need a cost-effective way to manage and distribute product information and graphic assets in a consistent and efficient manner.
Contenix gives premium brand owners more control
The Contenix Application Portal provides a cloud-based solution to this problem, giving brand owners a way to centrally organize their brand content and make it instantly available to commercial partners boutiques, retailers, employees, and press partners and in turn ensure that consumers are presented an optimum brand experience across all shopping channels. Additionally, the Contenix Application Portal easily integrates with back-office and corporate ERP systems to provide manufacturers with valuable real-time data.
According ABI Research (1), consumer shopping via a mobile device in the United States rose threefold from $396 million in 2008 to $1.2 billion in 2009, and will reach a staggering $119 billion by 2015.
Ned Taylor, co-founder of Contenix and a former luxury-brand retailer, sees enormous potential for technology that preserves the brand experience for premium-brand products. Brand owners can quickly realize huge benefits when using the Contenix Application Portal to manage and distribute their content, he said. Catalog printing costs are reduced as key marketing content is made available online. Brands can improve the quality of the brand experience on retailers websites and on mobile devices by ensuring that consumers are consistently provided accurate, rich media optimized for different channels.
Contenix platform extends across catalog, mobile, and social channels
Contenix offers premium-brand owners a set of integrated solutions to distribute their content:

The channel variables for a global brand are in constant flux. Every day, a brand may add or reduce retailers, update pricing, add new models, and sell out of others. This information can easily be updated from the Contenix Application Portal dashboard, published in real time to websites, social media sites, and to the latest mobile platforms such as the iPhone and iPad, added Contenix co-founder, Lawrence Kosick. By giving brand owners precise control over how their brand is represented in these crucial channelsthereby ensuring consumers are presented with a high-fidelity brand experiencewe can boost sales across all sales channels.
(1) ABI Research reference
About Contenix
Contenix is a software as a service company that has created a platform for premium brand owners to control, manage and distribute their digital content across their global channels via the cloud and from one, easy-to-use dashboard. Based in Silicon Valley, California, Contenix, was founded by an experienced management team led by internet, luxury-goods and retail executives with a common vision of helping premium brands deliver rich content across multiple channels, devices and countries. http://www.contenix.com
###
Read the full story at http://www.prweb.com/releases/contenix/baselworld/prweb5187314.htm.
Page: 1
Related Keywords:
restraint of trade,international (foreign) trade,trade dispute,trade agreements,trade policy,trade balance,economy, business and finance,financial and business service,retail,business enterprises,business (general),fishing industry,electricity production and distribution,cinema industry,radio industry,television industry,music industry,manufacturing and engineering,machine manufacturing,process industry,industrial production,economy, business and finance,financial and business service,business enterprises,advertising,marketing,business (general),economy, business and finance,
---