Constellation Research Kicks Off 2012 SuperNova Awards for Innovators in Technology
All-Star Judges Select Semi-Finalists for the Second Annual Awards Event That Recognizes the Explorers, Pioneers, and Unsung Heroes That Successfully Put Technology to Work
(April 23, 2012)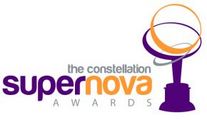 SAN FRANCISCO, CA -- (Marketwire) -- 04/23/12 -- Constellation Research, Inc. announces the kickoff of the 2012 SuperNova Awards, the only awards to recognize trailblazers that have overcome the odds to successfully implement new technologies within their organizations. The 2012 SuperNova Awards will recognize technology leaders in the following categories:
Big Data
Future of Work
Consumerization of IT and the new C-suite
Technology Optimization
Next Generation Customer Experience
Matrix Commerce
Esteemed judges selected for their accomplishments in the technology industry, will assess applicants against a vigorous set of criteria that evaluates real-world and pragmatic applicability. The judges will select semifinalists who embody the human spirit to innovate, overcome adversity, and successfully deliver market-changing approaches. Semifinalists will be announced, and invited to Connected Enterprise, Constellation's Executive Innovation Summit on June 29, 2012. Semifinalists will receive VIP access and admission to the event and many will be selected to speak at the Summit.
SuperNova Award finalists and winners will be announced at the SuperNova Awards Gala on November 9, 2012 at Constellation's Connected Enterprise Innovation Summit, planned for The St. Regis Monarch Beach, Newport Beach, California. SuperNova finalists will win $100,000.00 in prizes.
"The SuperNova award honors the true industry heroes -- innovators that are solving business problems by putting technology to work in new ways that are changing the outcomes of business," said R "Ray" Wang, Founder and CEO, Constellation Research. "The SuperNova Awards program is fueled with the momentum of hundreds of entries, and we'll be honoring the most impressive this June at our Innovation Summit."
Constellation Research encourages all tech evangelists to submit for a SuperNova Award. More information about the awards can be found here: http://www.constellationrg.com/supernova-awards-2012
ABOUT CONSTELLATION RESEARCH, INC.
Constellation Research is a research and advisory firm focused on disruptive and emerging technologies. This renowned group of experienced analysts, led by R "Ray" Wang, focuses on business themed research including the Future of Work, Next Generation Customer Experience, Big Data and Insights, Matrix Commerce, Technology Optimization and Innovation, and Consumerization of IT and the new C-Suite.
Constellation's collection of prestigious analysts bring real world experience, independence, and objectivity to client solutions that span cross-role, cross-functional, and cross-industry points of view. Clients join Constellation Research for a fresh and business focused perspective. Unlike the legacy analyst firms, Constellation Research is disrupting how research is accessed, what topics are covered, and how clients can partner with a research firm to achieve success. Over 100 clients have joined from an ecosystem of buyers, partners, solution providers, c-suite, board of directors and vendor clients.
For more information about Constellation Research, please visit http://www.constellationrg.com.
Constellation Research, Constellation SuperNova Awards and the Constellation Research logo are trademarks of Constellation Research, Org. All other products and services listed herein are trademarks of their respective companies.
Press Contacts:
Constellation Research
Email Contact
1.650.918.6619


Copyright @ Marketwire
Page: 1
Related Keywords:
Constellation Research, Marketwire, Inc., , Astronomy, Business, Other,
---