Conduit Rides a Wave of Success Into Web 2.0 Expo NY Conference
Company Wins Awards, Doubles Staff, Increases Its User Base, and Introduces New Features at the Show
(September 17, 2008)

SAN FRANCISCO, CA -- (Marketwire) -- 09/17/08 -- Conduit, a leading provider of website syndication solutions, released updated numbers for its customer and user base, following a highly successful year. During the Web 2.0 Expo New York conference, the company also introduced new features for syndicating content and applications.
"2008 has been a remarkable year for Conduit," said Ronen Shilo, CEO of Conduit. Following a successful round of funding from Benchmark Capital in January, Conduit was a recipient of several awards, including the Red Herring 100 Europe 2008, recognizing the 100 "Most Promising" companies driving the future of technology. Conduit was also chosen by AlwaysOn as one of the AO Global 250 winners because of its innovation, market potential, commercialization, stakeholder value, and media buzz. In addition, Conduit earned the TRUSTe Trusted Download Program certification after a rigorous review and testing process.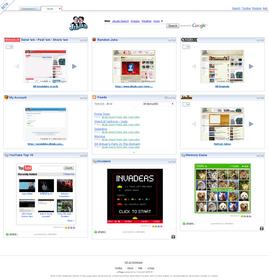 Helping Web Publishers to Get More Users
Conduit announced today an upgrade of its community portal pages, called u-Pages. The branded u-Pages are a synchronized extension of a publisher's toolbar. Content such as feeds, page links, videos, applications, and tools that are added to the community toolbar by the publisher are automatically displayed on a u-Page as unique and movable gadgets (see image of sample u-Page). These gadgets can then be easily exposed to the entire Conduit network of users via the Conduit library of gadgets. The Conduit u-Page is available exclusively as a feature of the community toolbar.
In an effort to help web publishers get new users, Conduit has also introduced the "Add Gadget" functionality to its platform. Web publishers can now create a branded "Add Gadget" button and make their gadgets available to anyone using a Conduit-powered toolbar. The "Add Gadget" button, which looks like the small banners commonly found on websites today, can be added to any website. When clicked, the gadget it supports -- for example, a blog or a game -- will be automatically added to a user's Conduit-powered toolbar.
Rapid Growth
Among its many accomplishments, Conduit confirmed today a significant increase in its number of web publishers and users of Conduit-powered toolbars. Specifically, the Conduit platform is used by more than 180,000 publishers to power their community toolbars. The number of users who have installed Conduit-powered community toolbars offered by web publishers has grown to over 38,000,000.
The company gives credit for this significant growth to the widespread customer adoption of Conduit's technology platform and its branded community toolbars. Among the new customers in 2008 are Answers.com, TechCrunch, Habbo, and Power Challenge.
"Our growth is evidence that Conduit has identified a massive need among web publishers for a syndication solution," continued Shilo. "And more publishers join us every day because of our frequent product upgrades and the recognition we receive from the industry."
"Conduit's remarkable performance clearly demonstrates the success of its delivery model and vision," said Michael Eisenberg, general partner at Benchmark Capital and Conduit board member. "Given the company's rapidly burgeoning network of publishers and users worldwide, we fully expect this trend to continue as the Conduit Website Syndication Platform quickly becomes a must-have for every web publisher. Conduit's high adoption rates and incredible base of web publishers is fast making Conduit the de facto standard for the industry."
In order to accommodate the dramatic increase in demand, Conduit has doubled the size of its employee base and opened additional offices in the U.S. Also, the company has deployed new U.S. servers to support the growing demand for its free community toolbars.
The Conduit Website Syndication Platform is available free of charge and is a safe browser plug-in supported by Firefox and Internet Explorer for Windows, Mac and Linux. Interested web publishers should go to www.conduit.com to learn more.
About Conduit
Conduit provides website syndication solutions for web publishers that increase site traffic, revenue, and brand loyalty while simplifying access to the content, communities and applications that subscribers care about most. By creating a direct, always-on connection between publishers and subscribers, Conduit opens new channels for real-time communication and commerce. More than 180,000 publishers have joined the Conduit network worldwide, including major brands such as Fox News, Lufthansa, Major League Baseball, Greenpeace, TechCrunch, Softonic and small and medium organizations in 180 countries around the globe. Web publishers who become part of the Conduit network have the opportunity to syndicate their website content and applications directly to the browser by allowing subscribers to add them as simply as adding an RSS feed. To create a community toolbar for your website, visit: www.conduit.com.
Image Available: http://www2.marketwire.com/mw/frame_mw?attachid=836597

Add to Digg Bookmark with del.icio.us Add to Newsvine
Press Contact:
Lisa Dilg
PerkettPR for Conduit
313.399.0892
Email Contact


Copyright @ Marketwire
Page: 1
Related Keywords:
website syndication, Web 2.0 Expo NY , Applications, Internet, Internet Server Applications, Unix, Mac, Linux, OS9, OSX, USA, Marketwire, Internet Technology, Internet, Baseball, Web 2.0,
---