Complimentary Webinar Shows Communicators How to Assign Value to Their Public Relations Programs
October 27: Presenter Angela Sinickas Reveals the Connection Between Behavior Change and Generated Revenue
(October 25, 2011)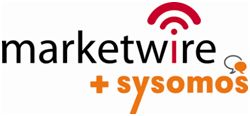 TORONTO -- (Marketwire) -- 10/25/11 -- Proving value and return on investment has become the key issue facing public relations professionals today. On Thursday, October 27, Angela Sinickas, a name synonymous with measurement of organizational communications, presents "Assigning Value to Your PR Program." In this complimentary Marketwire-hosted webinar she shows attendees how to plan communication activities that drive behavior changes and then translate those changes directly to generated revenue. This is the fifth webinar in Marketwire's six-part series, "Supercharge Your PR Program with Social Media."
What: Free webinar: "Assigning Value to Your PR Program"
Reporting on media coverage isn't enough anymore. Now senior management is asking for business outcomes -- how PR efforts tie directly to generated revenue. This session focuses on how to:



Plan communication in a way that it ties to behavior change
Demonstrate a linear connection between communication activities and the resulting behavior change
Translate behavior change into dollars
Take the appropriate amount of credit for the behavior change using either pilot studies or survey questions
Calculate a return on investment based on the credit PR professionals can take vs. the cost of the communication



Who: Angela Sinickas, President, Sinickas Communications, Inc.


When: Thursday, October 27, 2011, 10 a.m. PDT / 1 p.m. EDT
The session is 30 minutes in length and will be archived for later viewing. All registrants receive access to the archived webinars.


To Register, please click on this link: "Assigning Value to Your PR Program"
Upcoming Webinars
The October 27 webinar is part of an ongoing, complimentary series titled "Supercharge Your PR Program with Social Media." Designed for PR practitioners across all industries, participants learn how to use social media intelligence to build stronger PR plans, create content and conversations that engage audiences, and tie their PR efforts directly to increased revenue.
Archived Webinars
About Marketwire
Marketwire advances the way the world communicates by electronically delivering news and information to traditional, new and social media audiences, including newspapers, magazines, databases, analyst terminals, online portals, blogs, and more. Marketwire maximizes the power of its clients' communications by leveraging the latest in search engine optimization, multimedia, social media, monitoring and new technologies. Sysomos, a Marketwire company, provides unparalleled business intelligence for social media through advanced monitoring and analytics. Serving more than 12,000 clients worldwide through 20 offices on four continents, Marketwire is a dominant distributor of company news releases and other communications. Marketwire is majority-owned by OMERS Private Equity, which manages the private equity activities of OMERS Administration Corporation and today has $5.5 billion of investments under management. The group's investment strategy includes the active ownership of businesses in North America and Europe. OMERS Private Equity is headquartered in Toronto, Canada, with offices in New York and London. For further information visit: www.omerspe.com.
For more information, visit us online at www.marketwire.com and blog.marketwire.com, or on Twitter @marketwire.
Add to Digg Bookmark with del.icio.us Add to Newsvine
For additional information:
Dagmar King
Marketwire
(310) 765-3255
[email protected]


Copyright @ Marketwire
Page: 1
Related Keywords:
public relations value, return on investment, webinar, social media, communication measurement, ROI, Canada,Toronto,Marketwire, Inc., ,Business,Other,
---