Compete Smartphone Intelligence Survey Shows Mobile Barcode Scanning Now Mainstream in Retail
(January 06, 2011)

BOSTON, MA -- (Marketwire) -- 01/06/11 -- Compete, a Kantar Media company, today released the results of its Q3 2010 Smartphone Intelligence survey. Among the notable insights are the rise of mobile barcode scanning, the reluctance of some consumers to upgrade from cell phones to smartphones, infrequent use of mobile banking applications and the simplicity of "must have" features among smartphone shoppers. Compete's quarterly Smartphone Intelligence product provides both behavioral and survey-based insights into how consumers are using iPhones, BlackBerry and Android devices as well as other smartphones.
Barcode scanning, which not long ago was a niche application, should now be top-of-mind for all retailers. According to Compete's findings, barcode scanning apps have been used by 28 percent of smartphone owners. The highest rate of adoption is among Android owners -- 48 percent have tried a barcode scanning application. Not far behind are iPhone owners (39 percent), followed by BlackBerry owners (14 percent).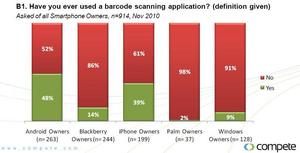 More than half of these active respondents said they scanned a barcode while in a store in order to compare the price of the product with prices in other stores. Others (23 percent) claim to have scanned an image of a product to bring up more information about it. And 13 percent said they've scanned a product's barcode so they could purchase it with their smartphone.
Other notable facts from the Compete Smartphone Intelligence survey include:
High prices of smartphones and data plans continue to be a barrier to smartphone adoption for cell phone owners. More than half of cell phone owners reported that they do not own a smartphone (a phone with advanced PC/email/Internet functionality) because the plans that are required with smartphones are too expensive.
Mobile banking usage is on the rise, with 40 percent of respondents using mobile banking apps at least once a month. However, most consumers are not yet making these apps part of their everyday routine; only 6 percent of consumers make a daily habit out of using mobile banking apps on their devices.
Although the top-five 'must have features' for smartphones across all consumers include basic features like long battery life, internet capability, personal email access, high-quality screen and camera/video camera, among those who spent over $100 on their most recent device, consumers are more likely to cite phone design, high speed data, touch screen and email access as top priority features.
About Smartphone Intelligence
Compete's Smartphone Intelligence combines consumer insights (through surveys) with behavioral data (through online click stream data) to reveal how smartphone owners are using their phones, the sites they visit on the mobile Web and what they like and dislike about their phone and experiences. Smartphone Intelligence subscribers will receive comprehensive quarterly reports with fresh data about smartphone use and behavior, as well as actionable recommendations tailored to their business.
Smartphone Intelligence also enables clients to go deeper with custom research addressing specific business questions relevant to unique segments of smartphone owners. Only Compete can bring in the online behavior of millions of consumers through click stream data to help answer these questions. To learn more, visit: http://compete.com/custom_/telecomSmartphone/.
About Compete
Compete, a Kantar Media company, helps the world's top brands improve their marketing based on the online behavior of millions of consumers. Leading advertisers, agencies and publishers rely on Compete's products and services to create engaging online experiences and highly profitable advertising campaigns. Compete's online panel -- the largest in the industry -- makes the web as ingrained in marketing as it is in people's lives. Compete is located in Boston, MA, with offices throughout the U.S. For more information, please visit http://www.compete.com/.
About Kantar Media
Established in more than 50 countries, Kantar Media helps clients master the world's multimedia momentum through analysis of print, radio, TV, internet, cinema, mobile, social media, and outdoor worldwide. Kantar Media offers a full range of media insights and audience measurement services through its global business sectors -- Intelligence, Audiences, TGI and Custom. Kantar Media companies also include Compete, Cymfony and SRDS. Drawing upon the deepest expertise in the industry, Kantar Media tracks more than 3 million brands and delivers insight to more than 22,000 customers worldwide. www.KantarMediaNA.com
Image Available: http://www2.marketwire.com/mw/frame_mw?attachid=1472435

Add to Digg Bookmark with del.icio.us Add to Newsvine
Contact details:
Anne Norris
Greenough Communications
617-275-6521
Email Contact


Copyright @ Marketwire
Page: 1
Related Keywords:
smartphone, consumers, kantar, media, users, intelligence, insights, sites, mobile, barcode scan, Camera, Internet, Communications, Digital Audio, Web, Cell phone, Smart Phone, PDA, iPods, iphone, Applications, Research, EMail, Social Media, Sales, Applications, Advertising, Marketing, Sales & Marketing, Internet, Social Media, Internet Server Applications, E-mail, Internet/Web, Camera/Film, Prosumer/Consumer, Business, Internet, Web, EMail, Social Media, Phone, Handheld PC/PDA, Marketing, PDA/Smartphone, USA, Marketwire, Apple Computer, Television, Communications Technology, Internet Technology, Business, Internet, Email, Other,
---