Comcast, iRobot and Google Support STEM Programs in Massachusetts Public Schools Through Science from Scientists
Dr. Erika TV Show Debuts on Comcast to Bring Entertaining and Engaging STEM Content to Students Across New England
(May 15, 2012)

BOSTON, MA -- (Marketwire) -- 05/15/12 -- As over 500,000 middle and high school students across the state prepare for the Science, Technology and Engineering (STE) MCAS this week, major New England companies including Comcast, Google, iRobot and others are leveraging a unique educational non-profit, Science from Scientists, to promote science, technology, engineering and mathematics (STEM) in the classroom and beyond. Recognizing the critical need to elevate STEM education in Massachusetts public schools, these companies are helping to bring scientists into the classroom to help improve MCAS scores and make STEM instruction compelling and inspiring.
Science from Scientists provides STEM lessons in the classroom via practicing scientists to help students and teachers meet MCAS requirements. Through year-long in-class instruction, the organization inspires and motivates students, grades 4-8, through exciting, informative and engaging hands-on learning experiences with science. Extending their reach beyond the classroom, Scientist from Scientists has partnered with Comcast to launch an educational television series called The Dr. Erika Show, hosted by Dr. Erika Ebbel Angle, CEO and founder of Science from Scientists.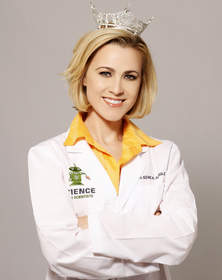 "By encouraging involvement from some of New England's leading corporations, Science from Scientists aims to positively impact STEM achievement and MCAS scores by working with over 2000 students annually in Massachusetts," said Dr. Ebbel Angle. "The Dr. Erika Show will let Science from Scientists extend its influence and impact students throughout all of New England."
Debuting this week on Comcast On Demand, The Dr. Erika Show makes science accessible and entertaining for elementary and middle school students across New England. The show was executive produced by Joshua Seftel, an Emmy Award-winning filmmaker who has produced educational programs for NOVA, PBS and WBGH. Its host, Dr. Erika, is a 2004 graduate of the Massachusetts Institute of Technology and earned a Ph.D. in biochemistry from the Boston University School of Medicine in 2012. She was also crowned Miss Massachusetts in 2004. Leveraging Dr. Erika's unique background, the show is designed to teach children about science, break stereotypes and make STEM subjects more approachable and entertaining for children. To watch The Dr. Erika Show, simply go to the On Demand menu, click "Get Local," then "News & Public Affairs" and "Science On Demand."
"We're pleased to step forward to help make this compelling, educational STEM content available to nearly two million customers throughout New England," said Steve Hackley, senior vice president of Comcast's Greater Boston region. "As a company focused on innovation, it's a natural fit for us to support exciting programming that endorses and reinforces the importance of science and technology in our society."
The Massachusetts economy is increasingly dependent upon jobs related to STEM. Roughly 475,000 people are employed in STEM occupations throughout the state, composing one-third of all managerial, professional and technical jobs. However, just 23% of students indicate that they intend to pursue STEM in college or as a career.
"Today's knowledge economy requires that we increase the number of students going into STEM, not only to meet the needs of business and industry, but also to open pathways to career success for young people," said Steve Vinter, Engineering Director at Google and member of the Governor's STEM Advisory Council. "We need to work together to find creative ways to connect our youth with science and technology, making it more accessible and fun."
When schools enrich their STEM curriculum and improve their science fair programs, they are opening a world of opportunity for their students and contributing to the Massachusetts economy. STEM careers are creative, high-paying and fast-growing, and the training for these jobs must be supported if the Commonwealth is to remain competitive on the world stage.
"STEM plays a vital role in our Administration's economic growth strategy for Massachusetts -- a strategy focused on education, innovation and infrastructure," said Lieutenant Governor Timothy Murray, Chair of the Governor's STEM Advisory Council. "Through statewide initiatives and private sector partnerships for creative and compelling programs such as Science from Scientists, we are aiming to increase student interest in STEM-related fields to ensure more students are prepared for future careers in STEM and the Commonwealth's growing innovation economy."
About Science from Scientists
Science from Scientists is a non-profit educational organization which sends real scientists into the classroom every other week during school to teach hands-on, frameworks compliant lesson plans to over 2000 students annually. The goal of the non-profit is to ensure our nation's youth is competitive globally in STEM fields.
Image Available: http://www2.marketwire.com/mw/frame_mw?attachid=1982970

Add to Digg Bookmark with del.icio.us Add to Newsvine
Media Contacts:
Alison L. Fraser
Science from Scientists
508-423-5373
Alison@sciencefromscientists.org

Marc Goodman
Comcast Corporation
617-279-7521
Marc_Goodman@cable.comcast.com


Copyright @ Marketwire
Page: 1
Related Keywords:
Science from Scientists, iRobot, Google, Comcast, STEM, MCAS, education, The Dr. Erika Show, England, Marketwire, , Television, Chemistry, Mathematics, Business, Science, england, Children, Teachers, Other,
---