ColorTouch Touch Screen Thermostat From Venstar Delivers Customizable Backgrounds, Including Users' Own Photos
Multi-Functional and Simple to Use, ColorTouch Thinks It's a Digital Picture Frame
(November 02, 2010)

CHATSWORTH, CA -- (Marketwire) -- 11/02/10 -- Venstar®, a leading thermostat and energy management systems supplier, today announced the launch of ColorTouch™, the multi-functional, simple-to-use, richly featured, programmable touch screen thermostat that thinks it's a digital picture frame. ColorTouch has customizable backgrounds, including the users' own photos, and more than a dozen preset themes, including holiday themes. Compatible with virtually every type of heating and air conditioning system, ColorTouch is available now through Venstar distributors and contractors nationwide. Estimated street pricing is less than $200.
"With ColorTouch, your thermostat becomes a small piece of wall art that is engaging to use," said Steve Dushane, president and CEO of Venstar Inc. "Whether you choose from the available themes or use your own photos, ColorTouch gives you the look and feel of a digital picture frame on your thermostat. ColorTouch is truly the thermostat redefined."
Customizable Appearance Using Users' Own Photos
Users can customize the appearance of their ColorTouch thermostats by using their own photos for the screen savers and background wallpaper. Importing photos into the ColorTouch thermostat is simple using ColorTouch Assistant software and an SD memory card. Compatible with any Mac or PC desktop or laptop computer, ColorTouch Assistant is included with the ColorTouch thermostat and can be downloaded from Venstar's Web site at no cost.
With ColorTouch Assistant, users can customize their photos with ColorTouch Assistant's built-in editing features, including zoom, rotate, color, and brightness adjustment, or reset to put the photo back to its original format. Using the "preview" feature, users can see how the photo will look as background wallpaper once the thermostat info is placed over the photo. Preview allows them to make sure their photo selections are acceptable before uploading them to the thermostat.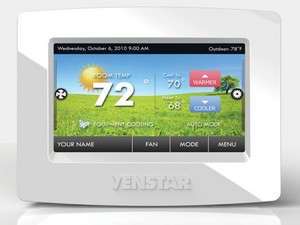 Users may install up to 100 photos for the thermostat, all of which can rotate as a slideshow when the thermostat is in screen saver mode. If desired, any of these photos may also be selected as the background wallpaper for the thermostat.
Built-in Nature and Holiday-Themed Photo Gallery
ColorTouch also comes with more than a dozen built-in nature and holiday-themed photos that can be used as background wallpaper for the thermostat. Holiday themes include Christmas, Hanukkah, Thanksgiving, Halloween and Cinco de Mayo. Each theme has separate photos, displaying daytime and nighttime shots, along with showing the sun for day and the moon for night.
ColorTouch Assistant Software's Five Menu Items Make Programming Fast and Easy
The ColorTouch Assistant software has five main menu items that make programming the ColorTouch thermostat fast and easy, including:
Picture Gallery -- users can easily find and upload their own photos. Editing tools allow for photo placement, color and brightness adjustments.
Service Information -- allows the contractor to provide service contact information. This can also be done directly on the thermostat.
Schedule -- users can see an "overview" of the time period schedule for heating and cooling and can edit the schedule from any Mac or PC desktop or laptop computer running ColorTouch Assistant. The user can also view and change the schedule directly from the thermostat.
Thermostat Settings -- users can adjust preferences, alerts, daylight savings, vacation, security, and overall system settings. The user can also make setting changes directly on the thermostat.
Automatic Updates to ColorTouch Software and Firmware (the operating system and feature set) -- When the user opens the ColorTouch Assistant application, it automatically connects to the Venstar Web site in the background and updates the ColorTouch Assistant and thermostat firmware to the latest revisions at no charge. ColorTouch Assistant updates the firmware to the SD memory card to be uploaded to the thermostat, which then updates the thermostat. Updating the firmware ensures that the user always has the most current system software, including new features and performance enhancements.
SD Memory Card Makes Uploads Easy; Users Can Also Import Between Thermostats
ColorTouch was designed with the ultimate in flexibility for programming, uploading and sharing information between thermostats. With the SD memory card, users can:
Upload images for the ColorTouch screensaver and background wallpaper.
Save settings from an existing ColorTouch thermostat that can be exported to other thermostats (so the user doesn't have to program each individual thermostat).
Engaging Touch Screen User Interface With a Choice of Screensaver Visuals
ColorTouch offers a choice of three screensaver modes:

Slideshow from the users' photos or built-in photo gallery

Home Screen information can be included in the slideshow rotation (every five photos).

Digital Clock

For the digital clock, the thermostat also shows the room temperature, displaying heating status with a red ring around the temperature number, or cooling with a blue ring around the number.

Analog Clock

The user can include the digital or analog clock in the slideshow rotation (every five photos).
"Simple as You Want" Operation Lets User Customize Thermostat Info on Display
"Simple as You Want" operation allows the user to remove the cooling references for homes without air conditioning.
"Simple as You Want" operation allows ColorTouch to be installed as a programmable or non-programmable thermostat.
"Simple Stat" operation mode provides enlarged display numbers and fewer display items, making it perfect for the most basic users.
Scheduler Keeps Home Temperature Comfortable, Display Is Easy to Read
Intuitive "Time Period" Scheduler automatically changes the temperature and mode for up to four periods per day, allowing for comfortable temperatures for sleeping, waking, and daytime, plus an energy savings mode for when no one is home.
At-a-Glance Screen Lets Users See Temperature and Heating/Cooling Status
"At-a-Glance" screen -- clearly shows the user heating and cooling status, as well as the room temperature.
Heat and Cool Indicators give "at-a-glance" information on heating and cooling, so users can easily see if air conditioning or heating equipment is on (the temperature number in blue if air conditioning is on; in red if heating is on).
Optional Outdoor Temperature Sensor -- The ColorTouch thermostat can be wired with an outdoor sensor so that the outside temperature can be displayed right on the screen. The user has the option to display the high and low temperatures for the day.
Comfort Features for Nighttime Dimmer
Nighttime dimmer for bedroom thermostats gives the user the ability to adjust the time the dimmer is on.
Users can also adjust the active brightness (when it is being touched) and the idle brightness, from 0 to 100 percent brightness with complete darkness being an option when the dimmer is idle.
Energy Usage Info Helps Users Monitor and Reduce Energy Use for a Green Home
Easy access to Energy Usage Information lets users easily see how much energy has been used to heat and cool for the past seven days. This helps users evaluate energy conservation options, giving them the opportunity to decrease energy costs.
Vacation settings to save energy when the house is unoccupied for extended periods.
Security of Locking Thermostat
Option to engage an automatic screen lock that can lock the screen minutes after it has been touched and requires a pass code to enable access (eliminates kids or guests changing thermostat settings).
Ability to enforce temperature set point limits -- the system runs within set temperature parameters so that no one can run the air conditioning too low or the heat too high.
Customizable Faceplates to Match Home Décor
Users can also choose their own customizable faceplates to match their home décor.
Options include white (supplied), black, silver, and wood grain.
A wall plate is available, if needed, to conceal the wall area where a larger thermostat previously existed.
Automatic Daylight Savings Adjustments, Multiple Languages, Alerts and More
Daylight Savings mode automatically adjusts for daylight savings.
Language choices of English, Spanish or French.
Reminder alerts remind the user to change the filter and who to call for service.
Ability to name the thermostat -- each thermostat can have its own name, such as "Upstairs Thermostat" or even more friendly names, such as "The Smith Home."
Compatible With Virtually All Heating and Air Conditioning Equipment
ColorTouch is compatible with most heating and air conditioning equipment and controls gas/electric or heat pump equipment, with up to 4 heating and 2 cooling stages. It is dual-fuel capable.
Exceptional Value at Approximately Half the Cost of Competitive Thermostats
ColorTouch is priced at approximately 50 percent less than competitors' touch screen thermostats and has many unique features not available in other brands. As well, it comes with the quality and value that is built into all Venstar products. Venstar has been a leader in thermostats for more than 18 years.
Availability
Venstar sells ColorTouch via a nationwide distribution network with thousands of contractors. For more information, visit: http://www.venstar.com/Thermostats/ColorTouch
Email: [email protected]
Telephone: 818-812-9930
About Venstar Inc.
Founded in 1992, Venstar Inc. is a leading thermostat and energy management system (EMS) supplier, known for providing value to its customers via ease of use and installation, proven cost savings, improved energy efficiency, quality and reliability. Venstar is one of the largest thermostat suppliers in the world and designs and produces Venstar-branded products, as well as OEM thermostat products for the biggest names in HVAC. Venstar's Surveyor is a leading energy management system, typically saving small-box retailers 25percent of their energy costs, which translates to millions of dollars in savings and dramatic reductions in C02 emissions. Surveyor currently controls the energy usage of more than 12,000 retail locations across the United States, Mexico, Puerto Rico, and Canada.
Web site: www.venstar.com
Image Available: http://www2.marketwire.com/mw/frame_mw?attachid=1408751

Add to Digg Bookmark with del.icio.us Add to Newsvine
PR Contact:

Stacey Doss
SDDPR
949-285-2362
Email Contact

Teri Sawyer
SDDPR
714-536-8407
Email Contact


Copyright @ Marketwire
Page: 1
Related Keywords:
ColorTouch, touchscreen, thermostat, energy management system, Venstar, digital photos, Mac,OS9,OSX,Canada,USA,Marketwire, Inc.,Silver,Environmental Technology,Internet Technology,Green Technology,Outdoor Sports,mexico,Other,
---