Cogito Media Group Announces Plan to Publish "The Real Trayvon Martin Story: Stand Your Ground vs. Equal Justice" -- One of the Most Explosive Cases of the Century
(May 03, 2012)
DENVER, CO -- (Marketwire) -- 05/03/12 -- The book titled "The Real Trayvon Martin Story: Stand Your Ground vs. Equal Justice," to be published by Cogito Media Group (PINKSHEETS: KRMC), will contain all the details of the trial of George Zimmerman that has sparked a national outcry and debate over whether the shooting was warranted. It will also cover the story behind the story, which is the justified use of deadly force by private citizens. 21 states have already passed a "Stand Your Ground" law, the self-defense claim which gives people wide latitude to use deadly force to protect not only one's life, but property and neighbors. It could go as far as permitting a preemptive strike against an apprehended attack, rather than retreating at the first signs of a potential fight.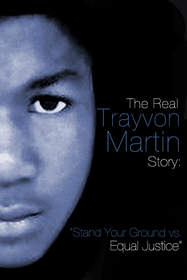 Is America going back to Frontier Justice? Will vigilantes be entitled to shoot at people they deem to represent a threat? These questions are particularly disturbing in the case at hand: Zimmerman, a 200 pound former altar boy and son of a magistrate judge versus, an unarmed black teenager wearing a hoodie walking through a gated neighborhood in Florida.
The racial overtones of equal justice for young black people will be covered along with the fears it has produced among all black people living in one of the 21 states that have passed the Stand Your Ground Law.
"This book could easily surpass the revenue potential of our Michael Jackson book which brought in over one million dollars," said Pierre Turgeon, Cogito's President.
Statements released by Cogito Media Group that are not purely historical are forward-looking within the meaning of the "Safe Harbor" provisions of the Private Securities Litigation Reform Act of 1995, including statements regarding the company's expectations, hopes, intentions, and strategies for the future. Investors are cautioned that forward-looking statements involve risk and uncertainties that may affect the company's business prospects and performance. The company's actual results could differ materially from those in such forward-looking statements. Risk factors include but are not limited to general economic, competitive, governmental, and technological factors as discussed in the company's filings with the SEC on Forms 10-K, 10-Q, and 8-K. The company does not undertake any responsibility to update the forward-looking statements contained in this release.
Image Available: http://www2.marketwire.com/mw/frame_mw?attachid=1970126

Contact:
Cogito Media Group
Email Contact


Copyright @ Marketwire
Page: 1
Related Keywords:
Cogito Media Group, Marketwire, , Celebrities, Business,
---