Cogito Media Group (Formerly Kurrant Mobile Catering Inc., KRMC.PK) Announces Launch of "DSK: Affairs of States" to Be Authored by Pierre Turgeon, Company CEO
Management Announces Company Authorized Common Shares Reduced From 50 Billion Shares to 15 Billion Shares
(April 26, 2012)
DENVER, CO -- (Marketwire) -- 04/26/12 -- (PINKSHEETS: KRMC) -- "DSK: Affairs of States" tells the first complete story of the fall from grace of a world-class powerful and promising figure, Dominique Strauss-Kahn -- known in the media simply by his initials: DSK. When he arrived in New York, on Friday, May 13 of 2011, he was the head of the International Monetary Fund (IMF) and the favorite to become France's first Jewish president in the upcoming French presidential elections. Three days later, he was jailed in the infamous Rikers Island, charged with sexually assaulting Nafissatou Diallo, a 32-year-old African maid, in his suite of the grand hotel he was staying in New York. His career and high hopes seemed destroyed. But in July 2011, the U.S. prosecutor's case suddenly collapsed. Lies in the hotel maid's account of what happened, revelations that she had associations with suspected drug criminals, allegations she had received large payments of money, and false statements about her background seriously damaged the credibility of the prosecution's main witness.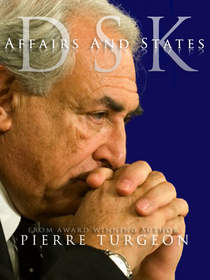 Now a free man, DSK flew back to Paris where he was cheered at the airport. Could the voters forget the New York incident? He addressed the French nation on TV with excellent results in the polls. But once again, fate struck: suddenly he was arrested for an alleged orchestration of a network of prostitution. He made bail by paying 1 million Euros, was forbidden to talk to the media and now risks 20 years of imprisonment. He claims his innocence, saying that he just participated in a few wild parties. But all of his presidential hopes have been destroyed.
Using the method of "nonfiction novel" illustrated, among others, by Truman Capote in his In Cold Blood, Pierre Turgeon, an award winning author of 15 books, researched in depth the DSK affair. He tells the story of a libertine, hunted but resilient, defended unconditionally by his wealthy wife Anne Sinclair. Gender, media, power, justice, money, lies, scams, corruption, elections, North-South conflict, judicial and cultural gap between America and Europe... these are the ingredients of this tragicomedy with which Turgeon tracks the depravities of some of the political, economic and intellectual ruling class, right and left. He doesn't hesitate to put under the spotlight many famous actors relevant to this political-economic-cultural international drama: Nicolas Sarkozy, Liliane Bettencourt, Bill Clinton, Roman Polanski, Silvio Berlusconi and even Barack Obama.
Turgeon finds answers, or plausible scenarios, to the hard questions raised by the DSK affair: was DSK simply the victim of sloppy police work and false accusations or is there an international political conspiracy against him? Who are his enemies in the U.S. and in the French government? What could their agenda be?
Pierre Turgeon is a journalist, historian, editor, novelist, screenwriter and book publisher. Based in Montreal, Canada, this author of 15 books has twice won the Governor General's Literary Award in Canada for his novel The First Person and his essay Radissonia: The James Bay Adventure. Turgeon also co-authored the non-fiction bestseller Canada: A People's History (Volumes 1 & 2), companion books to a successful CBC TV series. With over 30 years in the publishing business, Turgeon has worked as a journalist for Radio-Canada, the National Film Board and Actualité. In 2009, he founded and became President of Transit Publishing Inc. and is now CEO of Cogito Media Group.
In addition, on January 12, 2012, the Company filed with the Secretary of State for the State of Colorado a reduction of its authorized common stock shares from 50 billion shares to 15 billion shares, effective immediately. "We believe that this reduction of authorized capital will attract new funding and demonstrate to potential new investors in the Company that we are serious about managing potential future dilution in our stock and we continue to be steadfastly dedicated to bringing increased value to our shareholders."
Statements released by Cogito Media Group that are not purely historical are forward-looking within the meaning of the "Safe Harbor" provisions of the Private Securities Litigation Reform Act of 1995, including statements regarding the company's expectations, hopes, intentions, and strategies for the future. Investors are cautioned that forward-looking statements involve risk and uncertainties that may affect the company's business prospects and performance. The company's actual results could differ materially from those in such forward-looking statements. Risk factors include but are not limited to general economic, competitive, governmental, and technological factors as discussed in the company's filings with the SEC on Forms 10-K, 10-Q, and 8-K. The company does not undertake any responsibility to update the forward-looking statements contained in this release.
Image Available: http://www2.marketwire.com/mw/frame_mw?attachid=1962108

Contact:
Cogito Media Group
Email Contact


Copyright @ Marketwire
Page: 1
Related Keywords:
Cogito Media Group, Camera/Film, Business, Canada, USA, Montreal, Marketwire, Inc., , Film, Television, Lifestyle, Business, Presidential, Judicial, Elections, 2008 Campaign, elections,
---