Co-Founder of Square Jim McKelvey Joins LockerDome's Board of Directors and Invests
Red-Hot Jim McKelvey Further Positions Upstart LockerDome for Strong Growth in 2012
(January 04, 2012)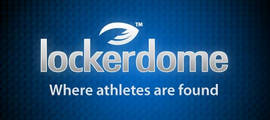 ST. LOUIS, MO -- (Marketwire) -- 01/04/12 -- LockerDome, a social sports community, announced today that Jim McKelvey, co-founder of Square, a billion-dollar mobile payments device company, has become one of its investors and is joining LockerDome's Board of Directors. LockerDome recently announced the closing of a $750K angel financing round.
In 2009, Jim McKelvey co-founded Square with Jack Dorsey, the co-founder of Twitter. Square has since raised $168M and is processing $2B per year in transactions. They recently surpassed 1 million merchants using the Square payment device.
"LockerDome is the real deal. A superb team of dedicated people and a product that grows organically," commented McKelvey. "When I saw the mattresses in the office, I knew this was a great company."
In addition to co-founding Square with Jack Dorsey, Jim is the co-founder of Third Degree Glass Factory, the largest public-access glass art education center in St. Louis, as well as the founder of Mira, a digital publishing company. Jim has a B.S. in Computer Science from Washington University in St. Louis.
LockerDome has been surging recently, growing by more than 400% over the past 6 months and registering an impressive collection of high-profile sports brands across the country. More than 400 of the top amateur sports teams and leagues have launched their own LockerDome networks, which serve as their own private social network where their athletes, coaches, and parents can create profiles, upload media, and gain national exposure.
The star-studded list of top sports brands launching LockerDome networks, such as the National Champion Dallas Texans, represents more than 50 of the top 100 amateur soccer programs in the country and over 25 of the top 50 amateur baseball programs.
In addition to amateur athletes, the company recently began piloting a new type of network, featuring dozens of professional athletes, that integrates celebrity athletes' sports identities side-by-side with amateur athletes, fans, and the rest of the LockerDome sports community.
"Jim McKelvey is a tech visionary. With LockerDome well-positioned for strong growth during 2012, we expect that Jim will play a significant role in shaping our strategic direction during that time," said Gabe Lozano, co-founder and CEO of LockerDome.
About LockerDome
LockerDome is a social networking site for sports. Just like Facebook is your personal persona and LinkedIn is your professional persona, LockerDome is your sports persona. LockerDome works with youth sports programs across the United States to launch private team and league networks, connecting their athletes and teams with other programs across the country. LockerDome allows you to join sports networks for the teams you currently play on and have played for in the past. In addition, you can follow professional athletes who are part of the LockerDome celebrity network. With a LockerDome ID, an athlete's sports memories are accessible in one place, forever. Learn more about LockerDome at www.lockerdome.com.
Contact Information
Jim Enright
LockerDome
Email Contact
(800) 983-5280, x14


Copyright @ Marketwire
Page: 1
Related Keywords:
social media, Square, Jim McKelvey, sports, internet, LockerDome, Education,Networking,Internet,Social Media,USA,Marketwire, ,Sports,Internet Technology,Computer Science,Internet,Science,Sports,Baseball,Soccer,Social Networking,Parents,Other,
---