Co-Founder of Netflix Set to Speak at Southeast Venture Conference 2012 in Northern Virginia
(February 07, 2012)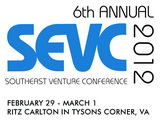 MCLEAN, VA -- (Marketwire) -- 02/07/12 -- Marc Randolph, co-founder and former CEO of Netflix, will share his entrepreneurial and investment experiences with hundreds of venture capitalists, entrepreneurs and technology executives at the 6th Annual Southeast Venture Conference (SEVC), taking place Feb. 29-March 1, 2012 at The Ritz-Carlton in Tysons Corner, Virginia.
Randolph launched Netflix in 1997 along with co-founder and current CEO, Reed Hastings, creating one of the Internet's most iconic brands in the process.
Prior to founding Netflix, Randolph was on the founding team of more than half a dozen other successful start-ups in the e-commerce, media, enterprise software and portable device markets -- all of which went on to IPOs or other successful exits. He is currently an active Silicon Valley angel investor and executive mentor for a number of tech startups.
"To get Netflix off the ground it took eight months, more than a dozen people, and several million dollars," said Randolph. "Today, any reasonably competent team of twenty somethings could do the same thing in a long weekend. But while the speed, ease and cost-efficiency of starting companies has dramatically increased the number of new businesses, it has created a whole new set of challenges for those of us tasked with actually making those companies successful -- not to mention the people responsible for funding them."
"After 20 years building, coaching, and investing in hundreds of startups, I'm still amazed at how little I know," Randolph continued. "But I've also come to realize there are still plenty of things we can do to increase the odds of being successful in this very challenging business."
Marc joins a speaker line up at the 2012 Southeast Venture Conference that includes dozens of leading venture capital investors from groups like Lightbank and NEA; industry insiders from organizations including Bloomberg, Motley Fool and the National Venture Capital Association; and other successful entrepreneurs such as OpenTable founder Chuck Templeton.
In addition to speakers discussing venture capital trends and entrepreneurial growth strategies -- the conference will showcase 60 of the leading innovative technology firms from the Southeast and Mid-Atlantic regions. These regions are represented by Alabama, Delaware, Florida, Georgia, Kentucky, Louisiana, Maryland, Mississippi, North Carolina, South Carolina, Tennessee, Virginia Washington, DC and West Virginia.
For additional information, visit: www.seventure.org.
About Southeast Venture Conference 2012
The mission of the Southeast Venture Conference (SEVC) is to help support the innovation and entrepreneurial activity of emerging high growth technology companies and the resulting economic growth in the greater Southeast and Mid-Atlantic regions. As part of that goal, the SEVC provides a key forum for relationship building between the investment and innovation technology communities. The 2012 SEVC is February 29th - March 1st at the Ritz-Carlton in Tysons Corner, Virginia. For more information, visit: www.seventure.org
Add to Digg Bookmark with del.icio.us Add to Newsvine
Copyright @ Marketwire
Page: 1
Related Keywords:
Southeast Venture Conference, Marketwire, , Business, Other,
---