ClickSquared Experiences Rapid Growth in 2011
Launch of Cross-Channel Marketing Hub, Key Staff Appointments, New Customers and Additional Funding Build Momentum for 2012
(January 31, 2012)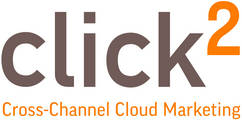 BOSTON, MA -- (Marketwire) -- 01/31/12 -- ClickSquared, a global provider of cross-channel marketing software and services, today announced strong growth, record bookings and other notable achievements in 2011.
"It has been a transformative year for ClickSquared," said ClickSquared CEO, Wayne Townsend. "We started the year with a mission to launch the first-ever enterprise-class SaaS marketing platform, the Cross-Channel Marketing Hub(SM). The Hub(SM) received a tremendous reception from the marketplace: we generated record license booking in Q4 and successfully migrated several existing clients -- with many more migrations scheduled to follow. We continued to hire the best in the industry and have made key staff additions throughout the organization. Our alliance with Offerpop provided our clients with an extended social campaign capability and we capped the year with $9M in equity financing led by Staley Capital."
Launch of the Cross-Channel Marketing Hub
ClickSquared's Cross-Channel Marketing Hub, its fourth generation cloud-based marketing platform, marries enterprise-class campaign management, marketing database management and customer intelligence tools with delivery and execution across email, print, web, survey, mobile and social channels. It consolidates and integrates the features and functionality typically found in stand-alone channel platforms and gives marketers a tightly integrated, analytics-driven cross-channel marketing and delivery capability. "The acceptance in the marketplace has been eye-opening," said Mike Sadeghpour, senior vice president, worldwide sales. "We were able to generate record license bookings in Q4 even though the product wasn't launched until October 3rd at the DMA conference in Boston. By providing an enterprise-class cross-channel marketing solution in the cloud, we're clearly satisfying an unmet need for direct marketers of all sizes."
Through its alliance with Offerpop, a leading SaaS social marketing company, the company launched clickSOCIAL(SM), an embedded component of ClickSquared's Cross Channel Marketing Hub. ClickSOCIAL provides marketers with fun, easy-to-use apps for recruiting, acquiring and engaging fans and followers on Twitter and Facebook, and the ability to convert semi-anonymous "likes" and followers into known customers and prospects with whom they can engage in tailored, one-to-one dialogues.
Industry Recognition
In July, ClickSquared was recognized in the Forrester Research, Inc. report, "US Database Marketing Service Providers: Alternatives to Consider." The report declared that ClickSquared has edged "ahead of the digital pack" through its combined top score in the categories of database management; execution and fulfillment; analytics; creative services; and strategy and consulting services.
In September, ClickSquared was one of seventeen companies awarded AlwaysOn's "Global 250" designation in the Enablers and Devices category. AlwaysOn Global 250 recognizes the top emerging companies in the Global Silicon Valley that are demonstrating significant market traction and pursuing game-changing technologies in digital media, mobile, social media, cloud and SaaS computing.
Customer Growth
ClickSquared added a number of innovative new clients over the year, including Lebara Mobile, Restaurant.com, Philadelphia Eagles and Grande Communications. The company also significantly extended and expanded its relationship with current clients such as Santander, redspottedhanky.com, East Coast Main Line and HomeAway.
Key Staff Appointments
ClickSquared strengthened its executive team by appointing Sadeghpour as senior vice president, worldwide sales, in September. In his short tenure, Sadeghpour has tripled the size of the sales team with veterans from across the industry. Other significant additions to ClickSquared's management ranks include Bob Solat, VP of Delivery Services; Carlos Quintera, VP of Client Engineering; and Gordon Wong, Chief Data Architect.
Financing
In December 2011, ClickSquared closed a $9 million round of equity financing led by Staley Capital and the company's existing group of investors -- Flybridge, JMI Equity and ABS Ventures. The round of funding will allow ClickSquared to build upon the momentum created with the release of its Cross-Channel Marketing Hub and accelerate the company's growth. The funds will be primarily devoted to increasing the visibility of ClickSquared in the marketplace; growing the sales force to manage the strong demand; and making the incremental infrastructure investments to ensure the highest possible service quality for ClickSquared's fast-growing client base.
The Future
Townsend concluded: "2011 was a successful year for ClickSquared. The combination of a highly differentiated cloud platform, innovative new clients, new management talent, a strong sales pipeline and the confidence of our investors puts us in a solid position to drive significant growth in 2012."
About ClickSquared
ClickSquared is a global provider of cross-channel cloud marketing software and services. With innovative offerings ranging from self-service campaign management and email to fully managed customer engagement and loyalty programs, ClickSquared's pioneering Cross-Channel Marketing Hub orchestrates and delivers analytics-driven, relevant and personalized customer communications across email, direct mail, social, survey, mobile and web channels. Backed by a team of marketing, technology and vertical-industry experts that are passionate about client success, ClickSquared enables organizations of all sizes to maximize the return on their marketing investment.
ClickSquared has helped to build some of the world's best known brands including ARAMARK Parks and Destinations, The Boston Celtics, Capital One Bank, Miami Dolphins, Dr Pepper Snapple Group, Four Seasons Hotels and Resorts, Greyhound, HomeAway, Hyatt, Lenovo, Leading Hotels of the World and Santander.
ClickSquared has offices across the United States, including its headquarters in Boston, Massachusetts as well as offices in the United Kingdom. For more information, call +1.857.246.7800 or visit http://clicksquared.com/ or via the links below:
Twitter: www.twitter.com/clicksquared
Facebook: www.facebook.com/clicksquared
Add to Digg Bookmark with del.icio.us Add to Newsvine
CONTACT:
Tier One Partners
Jill Monahan
484.244.5300
Email Contact


Copyright @ Marketwire
Page: 1
Related Keywords:
cross-channel cloud marketing, Offerpop, social media, funding, Forrester Research, SaaS computing, USA, Marketwire, Inc., , Internet Technology, Email, england, Other,
---